Woman Survives Car Accident On Otedola Bridge In Lagos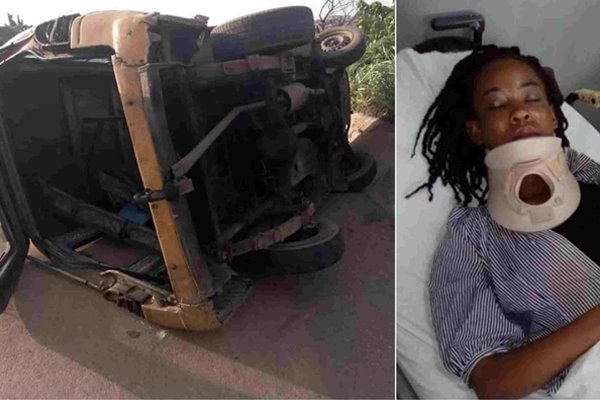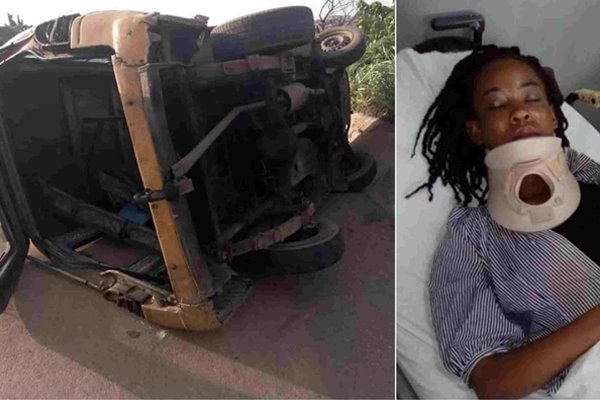 A Nigerian lady,  Desire Omasirim, has taken to Facebook to narrate how she survived an accident that almost took her life on Otedola Bridge in Lagos.
According to her, the accident occurred as a result of brake failure of the bus in which she was traveling in.
She wrote;
"Testimony time
God Spared my life…
Jehovah over do, On the 27th of June 2018, boarded a bus to Ojodu Bergar, On getting to Otedola bridge driver marched the break and it didn't hold, with the speed he hit a car in front of us, he came down to open his bus and the car he hit moved and i was at the back seat,everyone jumped off but almost too late for me cos the car was almost somersaulting,and at that point my colleague shouted that I should jump and on doing that, I jumped into another vehicle landing with my head, all I was thinking about before my head went blank was my kids, mum and siblings.
But i thank God for the immediate responses of the emergency unit in Lagos state here, that arrived at the scene few mins after the incident.
Want to use this medium to thank God for sparing my life and given me a second chance, it is for a purpose and it must be ACCOMPLISHED.
And for all my colleagues I love you guys, we no longer colleagues but family, the support and love was massive, and for my CEO of Adron homes, i woukdnt hace asked for better CEO, may God bless you more sir and my family and loved ones thats for the care, prayers and all the support, I love you all
And I am coming out better and stronger …
Not leaving this earth until the purpose I was created accomplishes.. My project is still on PadUp for girls, I haven't impacted any life yet, so Satan I am going no where ….
My God is too faithful to fail
I Am destined for greatest
Am a divine project."