76 Years After, Lost World War II Aircraft Finally Found
76 Years After, Lost World War II Aircraft Finally Found
Three American aircraft that were downed during World War 2 have been found.
The 76-year-old wreckage was discovered off the coast of the Federated States of Micronesia.
Researchers from NGO Project Recover and the universities of Delaware and California made the discovery.
It took the group four expeditions over the course of two years to find the crafts' remains.
Researchers spent 50 days surveying nearly 70km of seafloor. They eventually made the discovery on the seafloor in Chuuk State in the FSM.
According to the University of Delaware, the downed aircraft included two Dauntless dive bombers and one Avenger torpedo bomber.
It said the aircraft flew from the aircraft carriers USS Enterprise and USS Intrepid and went missing in action 76 years ago.
Project Recover's lead archaeologist Andrew Pietruszka said researchers were "now assembling reports for review by the US government. This is to potentially set into motion a process for recovering and identifying the remains of up to seven crew members".
The aircraft was believed to be carrying seven American servicemen. They were missing in action during the war.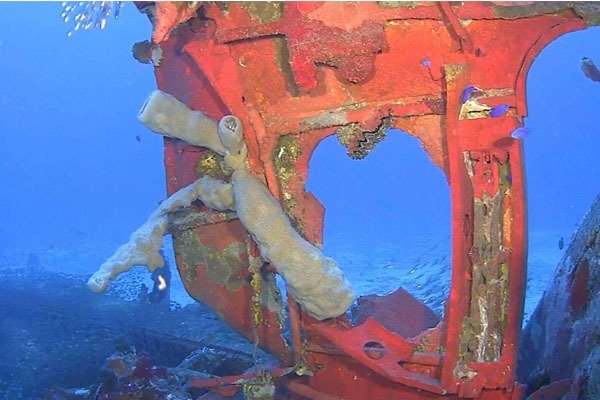 Starboard rear viewing port and entry hatch from a U.S. TBM/F-1 Avenger torpedo bomber in Truk Lagoon.