Fatal Accident Claims 17 Lives In Nasarawa After Overtaking VW Bus Crashed Into Sienna
Fatal accident claims 17 lives in Nasarawa State after an overtaking VW bus crashed into Toyota Sienna. 
The two vehicles went up into flames shortly after a head-to-head collision.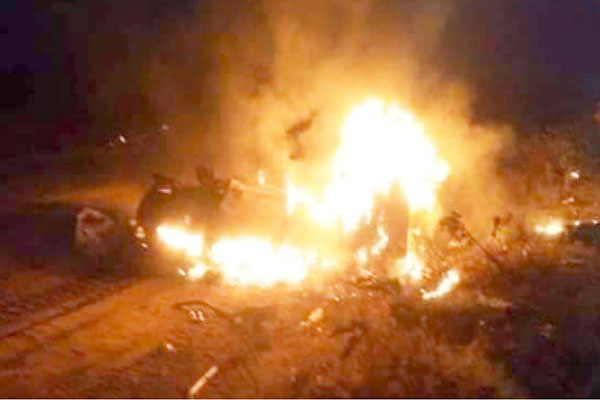 17 persons have reportedly died in a ghastly road accident involving a commercial and private vehicle. The tragic accident occurred along the highway between Akawange and Gudi community in Akwanga Local Government Area of Nasarawa State.
The Federal Roads Safety Commission (FRSC), in a statement, disclosed that the travelers were blazed beyond recognition.
Despite receiving a distress call, Ebere Onyegbaduo, FRSC Unit Commander in Akwanga, regrettably noted that the commission was unable to rescue the situation.
"We received a distress call of a ghastly accident by 7 pm around "Ahead Town" between Akwanga and Gudi Towns."
"We rushed to the scene and found a Commercial VW Sharon Bus and a Private Toyota Sienna Bus engulfed in flames with the occupants inside the burning vehicles"
"We called for the Fire Brigade, the fire was contained by 11pm and we completed the rescue by 2 am." he said.
However, a preliminary investigation carried out by (FRSC) revealed that the commercial Sharon bus was overtaking on a hill at a dangerous bend shortly after the vehicle ran into a Toyota Sienna bus.
The two vehicles went up into flames shortly after a head-to-head collision, leading to the death of the 17 travelers.
FRSC noted that remains of the occupants in Sharon Bus have been deposited at the Akwanga General Hospital. Meanwhile, those in the private vehicle were taken to Dalhatu Araf Specialist Hospital in Lafia the state capital.
High number of accidents have been recorded along the Akwanga-Lafiya Highway over the years. This resulted in the deaths of numerous lives. There's a popular hill called 'many have gone' along the expressway.
The Highway links the North to the South-East region of the country. The federal government over the years failed to expand the dangerous road to standard.