2024 Volvo EX90 Unveiled And its An EV Alternative To The XC90 With 373 Mile Range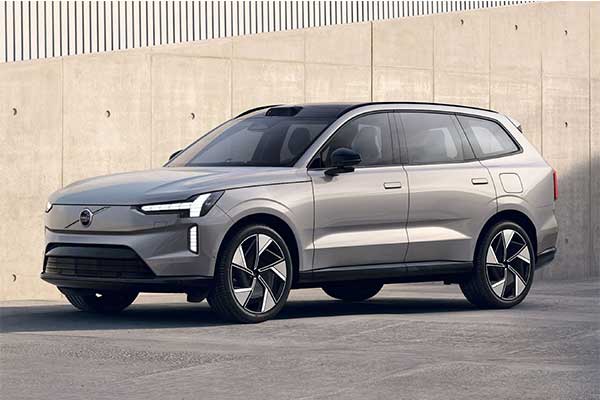 Volvo has unveiled its EX90 electric three-row SUV in Stockholm, Sweden, representing the future of the brand with a focus on sustainability, safety, and technology-driven design. Due on sale in 2024, the new machine is effectively an electric-only equivalent to the current Volvo XC90.
Unlike Volvo's current C40 Recharge and XC40 Recharge compact electric vehicles, which use a platform originally developed for internal-combustion engines, the EX90 has been developed from the onset for electric power. It rides on a newly developed EV platform that also underpins the 2024 Polestar 3 due at dealerships at about the same time as the EX90.
On the exterior, we see the Hammer of Thor daytime lights with a vertical bar below representing the lightning strike of the hammer. The horizontal lighting opens up like eyelids to reveal the nighttime lights behind them. Up top, the lidar unit is prominent but artfully blended into the black of the roof. The 22-inch wheels feature aerodynamic inserts that reduce turbulence; 20- and 21-inch wheels will also be available. The door handles rise to greet you when you approach with your digital key — your phone — from 30 feet away. The rear lights borrow their vertical signature from the C40.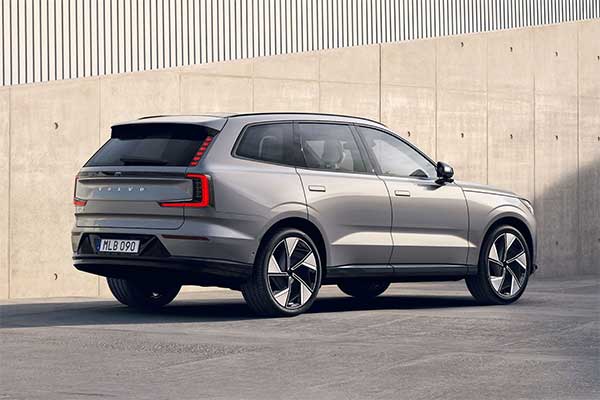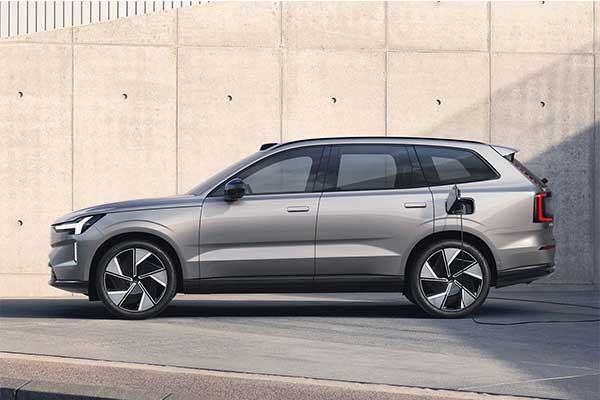 Proving that the automaker still has an eye on luxury is the addition of another Volvo first, Dolby Atmos. This comes courtesy of a 25-speaker audio system with integrated headrest speakers from Bowers & Wilkins, which is controlled via a 14.5-inch center display (a smaller, less distracting screen sits behind the steering wheel). This infotainment system has Google built-in, with Google Assistant, Google Maps, and more apps through the Google Play store. If you have an iPhone, don't worry. Wireless Apple CarPlay is compatible here, too, as is 5G connectivity wherever it is available.
It gets a dual-motor, all-wheel drive drivetrain that offers a claimed 373 miles (600 km) of range and bi-directional charging that lets customers send energy back to the grid. Two versions will be offered at launch, both fitted with a 107 kWh battery that can use 250 kW DC charging to fill from 10-80 percent in 30 minutes.
"The Volvo EX90 is our vision of a large family SUV in the electric age," said CEO Jim Rowan. "Born electric and software-defined, it demonstrates what future Volvo cars will stand for in terms of safety, tech, sustainability, design, and creating a more personal experience for every customer."