2023 Honda Pilot Unveiled: Its Bigger, More Powerful And Comes In A New Rugged Trailsport Trim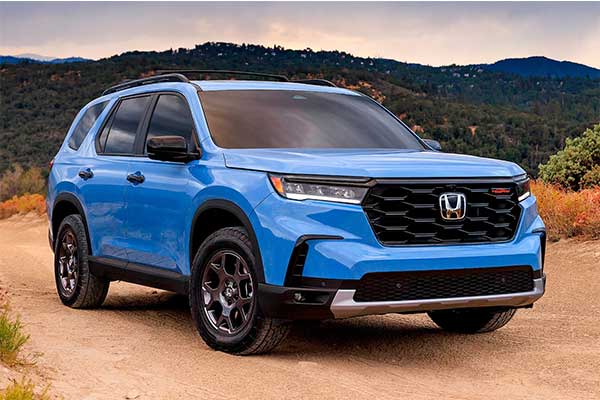 Ever since the original Honda Pilot debuted back in 2003, it has basically been a minivan dressed up as a three-row mid-size SUV. However, its shared bloodline with the sliding-door-toting Honda Odyssey wasn't outwardly obvious until the outgoing third generation. That's when the Pilot showed its true colors, with a bulbous shape and bland bodywork that deviated from its boxier predecessors.
Now the all-new 2023 model is quite different in all indications as it tries to rectify all of those wrongs, with a more traditionally SUV-shaped design that gets an upright grille and greenhouse, chunky fender contours, and the largest hood ever applied to a vehicle wearing that square H badge. There's still some swoopiness to the roofline, and vertical bumper vents help channel air around the car to preserve aerodynamic efficiency. But there are abundant details – namely the chamfered window surrounds and convex C-pillar – that recall the second-generation Pilot.
Built on Honda's new light truck architecture – which will also underpin new Passport and Ridgeline models going forward – the 2023 Pilot is larger than the midsize three-row SUV it replaces. Honda has compensated for the enlarged dimensions with a more powerful engine. Honda says the 3.5-liter V6 is all-new, producing 285 horsepower and 262 lb-ft to make it the brand's most powerful SUV ever built. Overall, the new engine has fewer parts and the 10-speed automatic transmission helps make the package more refined.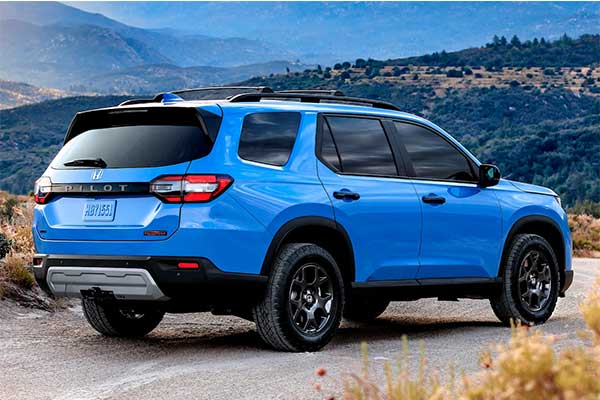 Technologies, either standard or available, include digital screens for the instrument cluster and infotainment systems, measuring up to 10.2 and 9.0 inches, respectively. There's also a drive mode selector with seven modes, including new Sport, Tow, and Trail modes. There's also Trail Torque Logic, a special mode for off-roading that precisely controls torque in order to direct it where it's needed if one of the wheels should lift off the ground. Another new feature is the camera system which relies on four exterior cameras to help drivers navigate obstacles outside their line of sight.
As for the 2023 Honda Pilot TrailSport, it gets an off-road-tuned suspension with a 1-inch lift over a still-to-be-announced standard ground clearance. Approach and departure angles improve, too. The stabilizer bars, spring rates, and damper valve tuning are exclusive to the TrailSport, as are a full-size spare and the 18-inch wheels (stamped with TrailSport) wrapped in Continental TerrainContact all-terrain tires. Skid plates protect the oil pan, transmission, and gas tank, and Honda says they are capable of supporting the entire TBA curb weight crashing down on a rock. There are also visual differences, including lots of gloss black trim, more rugged black plastic trim on the rockers and lower rear bumper, and an exclusive Diffused Sky Blue Pearl paint option shown here.
Thanks to Honda's second-generation i-VTM4 torque-vectoring all-wheel-drive system (which is available on the TrailSport and the Elite models), up to 70 percent of the engine's torque can be directed towards the rear wheels and 100 percent can be directed from one side of the vehicle to the other.