5,500-pound Range Rover SUV Flipped Onto Its Side After A Burglar Smashed A Stolen Ferrari Into It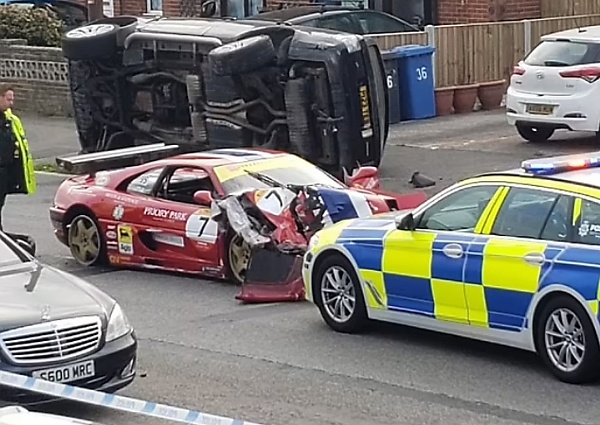 Stolen Ferrari race car driven by a burglar managed to flip over a 2.5 tonne (5,500-pound) Land Rover Range Rover.
The 35 year burglar has been charged with stealing and crashing the Ferrari F355 Sports car.
The Ferrari race car had been reported stolen only 20 minutes before the collision.
Ferrari F355 can do 0-60 mph in 4.5 seconds, before reaching a top speed of 179 mph.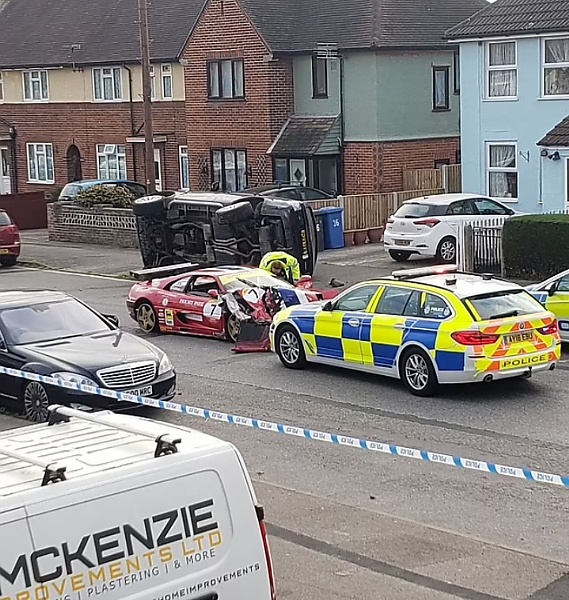 The owner of a Land Rover Range Rover was left in 'disbelief' late last month after a stolen Ferrari race driven by a burglar sent his parked 2.5 tonne SUV into the air, causing it to flip onto its side on Lindbergh road in Suffolk.
The impact of the crash also left the Ferrari race car – which had been reported stolen only 20 minutes before the collision – almost unrecognizable after the burglar, Lee Nicholls, drove it into the parked Range Rover.
Following the crash, the 35 year old burglar fled the scene, but was later found and arrested 2 hours later. He was taken to hospital before questioning him at Martlesham Police Investigation Centre.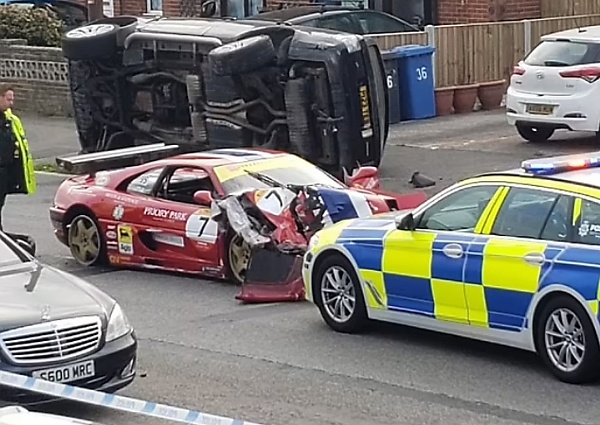 Nicholls is now being charged for 16 crimes, including for another similar crime he committed on April 12 after crashing a Rover 25 into a Honda Civic in Beatty Road at 11am.
He is being charged with :
Burglary other than dwelling;
Aggravated vehicle taking and vehicle damage;
Driving otherwise than in accordance with a licence;
Driving without insurance;
Failing to stop after an accident;
Failing to provide a specimen of breath for analysis; and
Assault by beating a police officer.
The stolen car is a Ferrari F355 that could do 0-60 mph in 4.5 seconds and a top speed of 179 mph that was enough to send the parked 5,000-plus-pound Range Rover onto its side.