Social Media Influencer Abike Arab Money Acquires Lexus IS250 Ahead Of Birthday (PHOTOS)
Social media influencer, Abike Arab Money, also known as Papaya Ex, recently announced her acquisition of a car – a Lexus IS250.
The television personality and Youtuber made the announcement on her Instagram page.
Abike bought the car ahead of her birthday on January 9.
The VBlogger shared several photos of herself posing with her new ride as she announced the news to her Instagram family of over 200,000 followers.
In her caption, the Instagram celebrity expressed relief to be done with taxi-hailing services.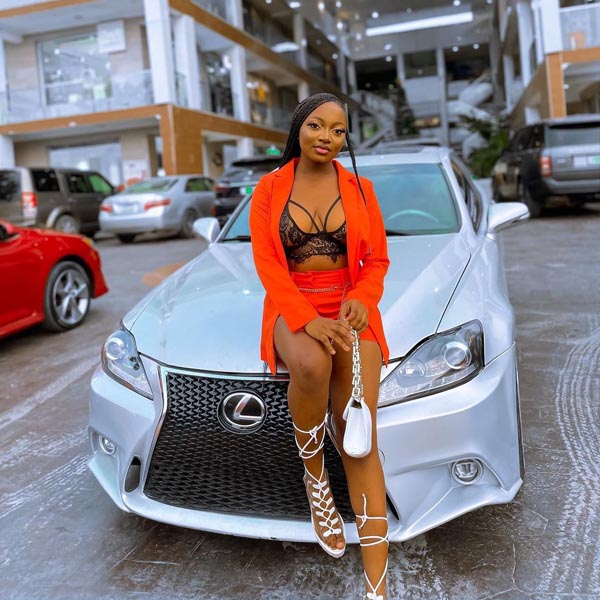 Sharing a video of her new ride, she wrote: "Got myself a birthday gift."
In another post, she wrote: "No more you can start the trip, now please get my car keys."
Abike Arab Money, aka Papaya Ex, is a model, actress and social media influencer.
She is at the moment one of the well-known influencer in Nigeria and still on the rise.
Lexus IS250
The Lexus IS has always been an alternative choice in the compact saloon sector.
However, the IS250's aggressive new look and sportier chassis set-up puts this version as the class leader.
The IS250 adopts Lexus' 'spindle' grille design. This makes it much better looking.
The car features two-piece headlights, with boomerang LEDs underneath, look fantastic, as do the wraparound tail-lights and upswept side skirts.
Inside, things are orderly and upmarket, with materials that put more expensive cars to shame.
The IS 250's 2.5-litre V6 is carried over from the old car but, with 201bhp and 250Nm of torque, it is not overshadowed by more modern engines. Abike Arab Money
Its ultra-smooth and predictable throttle response is rare in an era of peaky turbocharged engines, and there is strong acceleration when you floor the throttle.