Acura Resurrect The Integra (Prototype) As A 5-Door Hatchback With Civic Si Power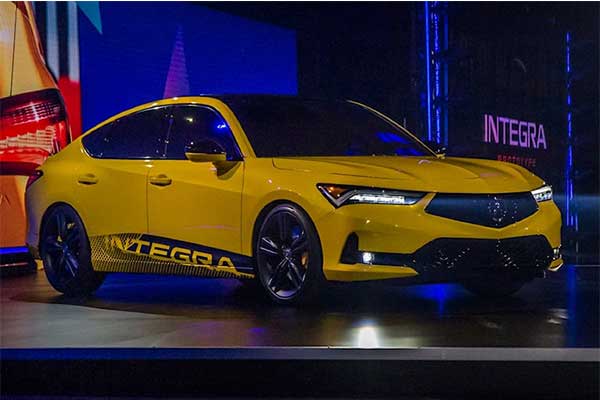 Acura's legendary Integra nameplate has returned with a mixed reaction from many enthusiasts but it's back and will be released as a 2023 model.
The Civic-based Acura sedan borrows the sporty Si's 1.5-litre, turbocharged 4-cylinder and 6-speed manual transmission with its limited-slip differential, though the exact specs still remain up in the air.
Like the first-generation Integra from 1986, the Prototype will take the form of a liftback sedan, though clearly modernized with current Acura styling cues. That means LED headlamps with chicane-shaped signature lighting bookending an angular "Diamond Pentagon" grille upfront. Sweeping taillights with a notched internal design appear on either side of an aggressive fastback rear hatch.
Adorning the exterior of the car is a bright shade of yellow borrowed from the current Acura NSX and also reminiscent of the yellow used by the iconic DC2-generation Integra Type R, dubbed Indy Yellow. Acura has also equipped the Civic-based model with matte-finish 19-inch split-five spoke wheels with Brembo high-performance brakes and Indy Yellow callipers.
Acura says the new Integra will start at around $30,000 and was referred to multiple times as "the new gateway" to the Acura brand. It's not yet confirmed that the ILX won't continue past 2022, but it's not looking good for the sedan. That would move up the entry price for Acura, the ILX starts in the mid-$20,000 range. The Integra will be built alongside the TLX in Marysville, Ohio and it is slated to arrive at dealerships next year as a 2023 model.
Other engine options and an automatic transmission will be released soon along with the rumoured Type-S which may use the powerplant of the future Civic Type-R.