Ambode's Gifts To Vulcanizers Are Springing Up All Over Lagos (PHOTOS)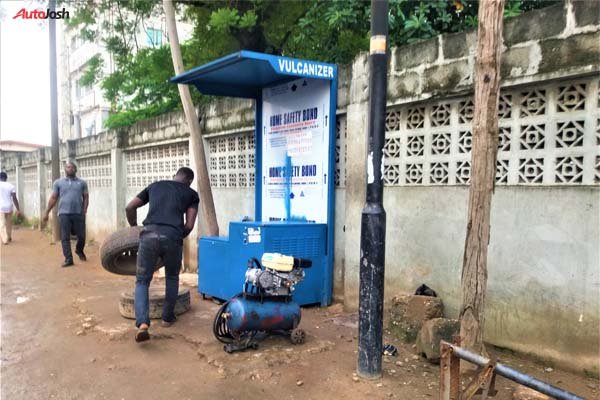 A few days before he left office as the Governor of Lagos State, Akinwunmi Ambode commissioned about 1000 Vulcanizer stands and distributed them for free to vulcanizers in Lagos state.
The stands dubbed Ubiquitous Box for Vulcanisers (UV-Box) were designed to upgrade the operations of vulcanizers and enhance the vocation.
The beneficiaries are members of the Lagos State Vulcanisers Association drawn from the five divisions of the state.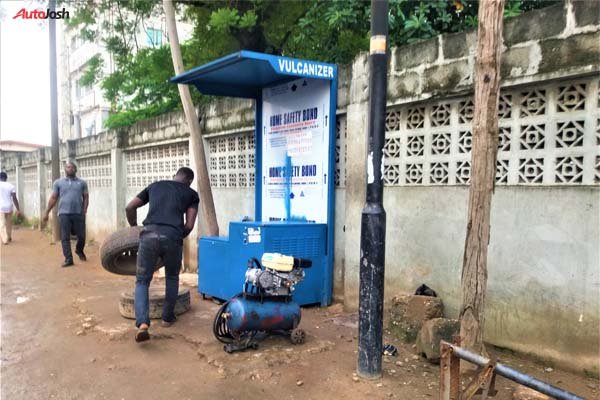 The governor, during the distribution of the tools, noted that the gesture was to support the informal sector for its contributions to the state economy.
The Ubiquitous Box for Vulcanisers (UV-Box) is the pilot phase of the Ubiquitous Box for commercial roadside operators designed by the state government as a three-pronged empowerment scheme aimed at relocating and regulating registered street traders in our state.
According to Ambode, the state government decided to accommodate commercial roadside operators in aesthetic, safe and environmentally-friendly units in government-approved designated areas such that mobile artisans and traders would no longer cause obstruction to free flow of traffic or litter the streets with waste.
In order to recover government's expenditure on the project, each UV-Box has been designed to generate revenue for the state government through subscription for use of advert panels /billboards by interested members of the public under the supervision of the Ministry of Commerce, Industry and Cooperatives.
Though the UV-Boxes were being given to the beneficiaries free of charge, they remain the property of the state government till December 2023.
However, if the Box is lost or stolen within a specified period, the beneficiary will pay the cost of the UV-Box, which is N323,300  to the State Government.