An Angry Porsche Fan Crashed N49m Cayenne Into Dealership After Not Getting Optional Extras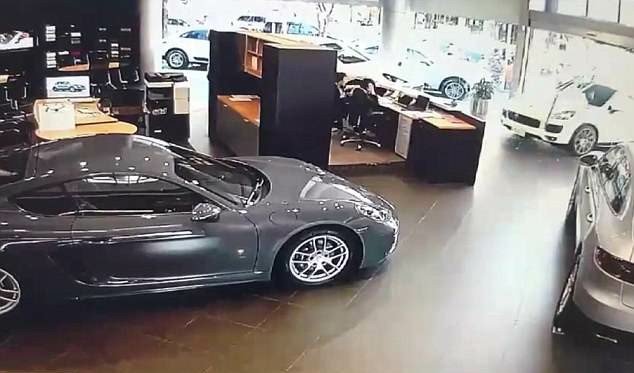 Just last week,popular Nigerian singer ,David Adeleke also known as Davido gave his girlfriend a brand new Porsche Cayenne as a birthday gift .
With the news still fresh on our minds , the same car model on wednesday this week was used as a weapon of protest by a 42 year old taiwanese businessman who was described as a loyal porsche fan.
It all started in January 2017 when he payed more than £50,000 as deposit for a
new Porsche Panamera Sport Turismo with a base price of £147,000 plus an extra £37,000 for an optional 4D chassis control .
When the new Porsche was finally delivered to him in November ,it came without the optional extras he had ordered,with the dealership claiming the sales contract did not include the extras,which were likely forgotten by his assistant.
He refused to pay the balance and demanded his deposit be returned.
The dealership responded by giving him five days notice to either fulfill the contract or forfeit the deposit he had left with them.
To show his anger, he slammed his N49m (£100,000) porsche cayenne into dealership's showroom through the front entrance into the front desk.
The man,who had previously been convicted of burglary and fraud, was later arrested and charged with property damage and intimidation. The police also found a pickaxe and petrol in his damaged Porsche Cayenne.
He regretted his actions and then claimed he mistakenly crashed into the showroom while swerving to avoid an incoming car. The case is still under investigation.
http://www.dailymail.co.uk/news/article-5686573/Businessman-smashes-100-000-Cayenne-dealership-row-Porsche-order.html