Elon Musk's Rude Attitude Cost Tesla $2B In Value After Calling An Analyst 'Boring Bonehead'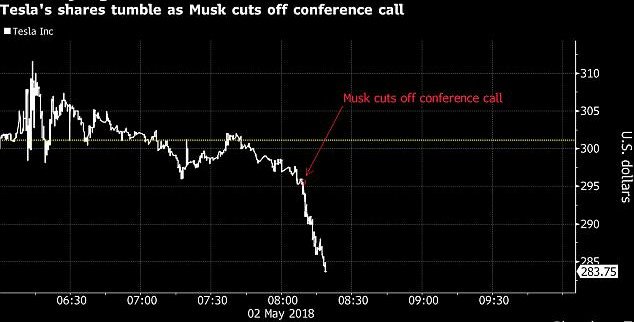 Fortune, that's what you may likely lose if you are hot tempered and also when unrefined answers are given to simple questions . Tesla lost 5% in business shares or US$2 billion because of these.
Elon Musk's outspoken views and lack of respect for participants during a teleconference call have led to a 5% loss in business shares, which amounted to about £2 billlion on wednesday , despite his promises that the production of the troubled Model 3 was on track.
It's obvious that the future of Tesla depends on the upcoming Model 3, and with Musk vowing to reverse losses within a few months, an analyst asked how much profit Tesla will be able to get from the electric car.
Musk replied : 'Excuse me. Next. Boring, bonehead questions are not cool. Next?'
Another analyst from RBC Capital Markets also asked a question about the upcoming Model 3 during the Question & Answer session
Elon musk paused for about 15 seconds, before saying : 'These questions are so dry. They're killing me.' 
An analyst from Robert W Baird & Co was trying to encourage Elon Musk to give more updates on the Model 3 do as to boost its stock value.
Musk replied. "I'm not here to convince you to buy our stock. Do not buy it if volatility is scary. There you go."
At the end of day , a total of about $2 billion was wiped off from Tesla's market value in response to the South African born, CEO of Tesla's rude attitude during the quarterly earnings teleconference call yesterday.
Despite loosing about $1 billion in cash in the first quarter of the year, Elon Musk also rejected the idea of raising money to help the company.
Tesla is still aiming to meet a daily production target of 5,000 Model 3s by end of june, which means potential buyers still have to wait a little before they can get the £25,000 5-seater electric car .
The Model 3s has a range of 215 miles on a single charge and can go from 0 to 60mph or 0 to 100km/h in 6 seconds.