Aston Martin Bids Farewell The V12 Engine With the Launch Of V12 Vantage Roadster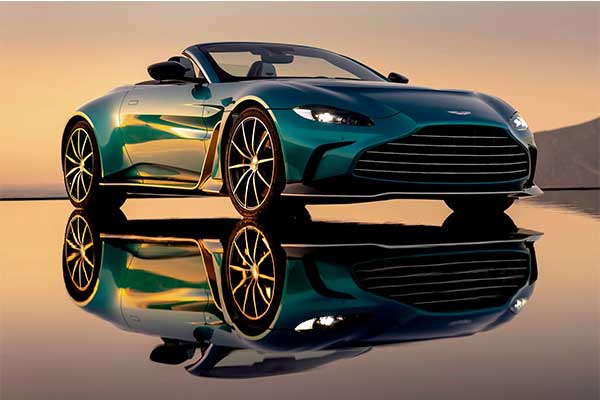 Aston Martin has unveiled the V12 Vantage Roadster at the ongoing Monterey Speed Week and unlike the more impressive DBR22 which is a concept car, this model will be produced and sadly all 249 models have already been accounted for.
Performance upgrades to the V12 Vantage Roadster are essentially identical to the coupe. It has a twin-turbo 5.2-liter V12 making 690 horsepower and 555 pound-feet of torque. Power goes through an eight-speed automatic transmission to a mechanical rear differential. In practice, the Roadster reaches the same 200-mph top speed as the coupe, and it's only 0.1 seconds behind it to 60 mph at 3.5 seconds.
What does Aston Martin do differently on the V12 Vantage Roadster besides installing a convertible roof? The company isn't forthcoming with details, save for a bespoke tune on the Roadster's adaptive dampers. As the images clearly show, the drop-top also lacks the big rear wing used on the solid-roof model. However, should a Roadster buyer want it, the wing is available as an option.
The roofless V12 gains the same carbon ceramic brakes as the hardtop. The 16.1-inch front discs receive six-piston callipers, while the 14.2-inch items fitted at the rear have four-piston callipers. Aside from improved stopping capabilities, the lightweight braking system scrubs a considerable 50.7 lbs of unsprung weight from the total mass.
As important as performance is, luxury has always been a mainstay of the Aston Martin brand. As such, the cosy cabin is treated to exquisite materials and the finest leather, such as the full semi-aniline hide that covers the standard Sports Plus seats. Of course, the brand's signature quilt pattern and 'Wings' logo are present on the sporty pews.
As mentioned above, just 249 examples of the V12 Vantage Roadster will be built, and all build slots have been filled. Deliveries start in late 2022. This is the last of the V12 engined Aston Martins as they move closer to electrification.