Mercedes-AMG Launches GT3 Edition 55 To Celebrate 55 Years Of AMG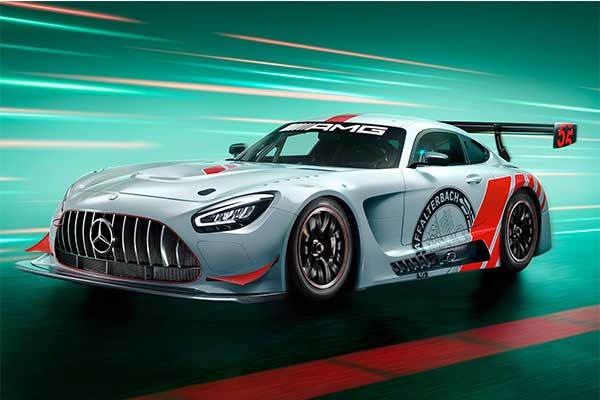 Mercedes-AMG has introduced the latest Edition 55 model to celebrate 55 years since AMG was founded. But instead of being based on a roadgoing car, the new special edition is a race car, specifically the AMG GT3. The machine comes with several hardware upgrades over the standard GT3 and some of them turn it into the most hardcore race car with a three-pointed star logo. There's a very easy explanation for that, though.
For starters, this vehicle isn't FIA homologated, so it doesn't need to adhere to restrictions. That means the 6.3-litre V8 under the hood delivers 100 horsepower more than the regulations-meeting version, bringing total power output to a mighty 650 horsepower. Mercedes-AMG also removes the silencer from the Inconel exhaust, which means this AMG GT is going to be appropriately louder with its extra power.
The exterior is finished in Manufaktur Alpine Grey Uni with red accents like the 55-year anniversary logo on the rear wing, visible matte-finished carbon fibre, and the Affalterbach crest painted on the doors.
On the inside, the Edition 55 features a special, visible chassis paint finish in Anthracite metallic matte paint. The seats are adorned with special embroidery of the anniversary symbol. Plus, an "Edition 55 – 1 of 5" plaque can be found on the centre console and seats. The seatbelts are finished with silver accents. And lastly, the data display unit is an upgraded Bosch part that features a 55-year anniversary logo when it boots up as you turn the car on.
Behind the steering wheel, there's a Bosch DDU 11 high-resolution display that shows important information like engine speed, operating temperatures, lap times, and gear. When the car is started, the 55-year anniversary logo is displayed on the screen.
Only 5 of these limited edition models will be made and there's a high chance they've been all booked.