Toyota Unveils The Cute Looking 2023 Sienta MPV For The Japanese Market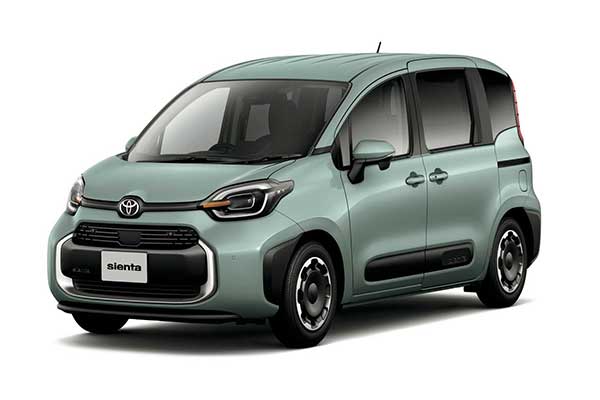 Toyota Japan has launched the all-new Sienta MPV for that region and it comes with a choice of 5 or 7-seat configurations as well as an optional hybrid engine set-up using the TGNA platform.
This is the third generation of the Sienta following the original model that debuted in 2003 and the second gen that followed in 2015. The new Sienta shares its TNGA-B bones with the Yaris, Yaris Cross, and Aqua, although it is longer and taller compared to its platform siblings. More specifically, the Sienta measures 169.3 inches long, 66.7 inches wide, and 65.7 inches tall. These figures are very close to its predecessor, with a slightly increased height and length, but an identical wheelbase of 1098.3 inches.
The new Sienta debuts with a completely redesigned exterior, which Toyota calls a 'Shikakumaru' circle and square design. The Yaris-like front fascia on the old model has been replaced with a beefy-looking nose with an abundance of black plastic on enveloping the badge and enclosing the grille. A pair of wide headlights are found on the front end.
More black plastic trim can be found on the doors and the C-pillar. From this side, you'll notice how the Sienta now has a seemingly taller profile. At the rear, there's still that boxy physique, but the taillights now flank the massive windshield. Said taillights feature a futuristic pattern that gives off a sleek light signature.
Inside, we find a simple yet modern dashboard with a free-standing infotainment touchscreen measuring up to 10.2 inches in diameter, an optional digital instrument cluster, a high-mounted centre console, and a trio of cupholders. The cabin floor is flat and there are plenty of storage compartments and USB ports for charging. There are also many clever solutions like bag hooks on the armrests and smartphone pockets on the seatbacks making everyday life easier for families.
Power comes from a 1.5-litre hybrid engine mated to a CVT with simulated gears for "fun shift changes with the feeling of a manual." There's also a base 1.5-litre gas engine, as well as an all-wheel drive variant of the hybrid.