Mercedes-AMG Unleashes AMG GT Track Series Which Is A 724 HP Beast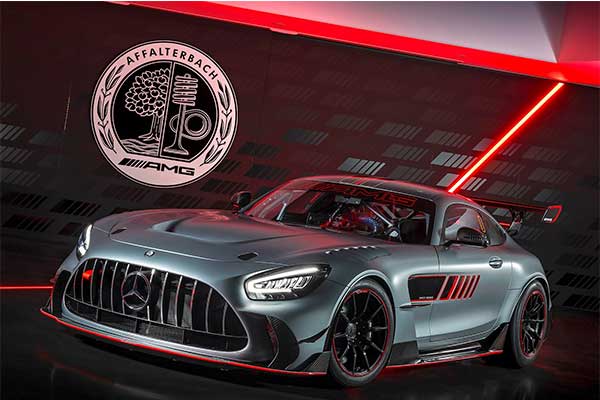 The Mercedes-AMG GT Track Series debuts as a limited-run version of the Black Series that's exclusively for use on circuits and at club sport events. It's the most powerful track car ever available to customers from AMG.
As the name suggests, the GT Track Series has been developed exclusively for track use. It's closely related to AMG's GT3 and GT4 race cars, though produces a lot more power. The car's 4.0-litre twin-turbocharged V-8 is tuned to deliver 724 hp, or 4 horses more than the GT Black Series. The extra bump is courtesy of race-spec fuel injectors and a few other tweaks. Rather than using a nine-speed automatic transmission, it employs a sequential Hewland HLS six-speed racing gearbox to send power to the rear axle.
For added mechanical grip, AMG has also installed an adjustable differential which is accentuated by a set of four-way adjustable Bilstein dampers and individually adjustable anti-roll bars. To keep the curb weight down to a figure of 3,086 pounds, carbon fibre construction has been used for the hood, wings, trunk cover, sills, and rear apron.
The interior looks and feels like a proper race car thanks to a high-tensile steel roll cage, a carbon fibre driver safety cell, a five-point racing harness, and an extrication hatch on the roof. A fire extinguisher system and driver safety nets have also been installed, as has a custom steering wheel, a programmable Bosch driver display unit, and an advanced data logging system.
Mercedes is only building 55 examples of the Track Series, as it's a celebration of AMG's 55th anniversary. Each car starts at 369,000 euros, or about $406,000. In addition to the car, owners will receive training on how to use the car, along with a support line, and the availability of an engineer for track events for help setting up and running the car.