Audi To Enter Formula 1 In 2026, Set To Challenge Mercedes-AMG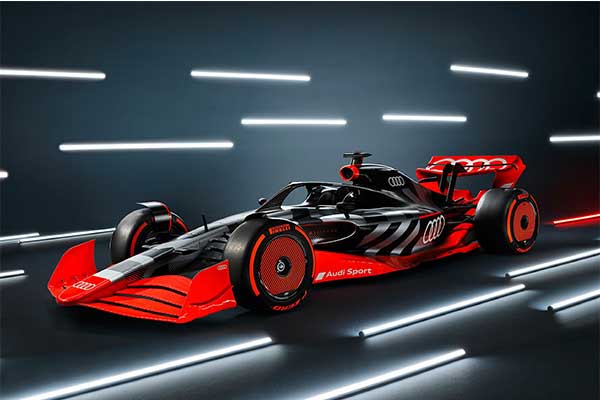 After months of rumours and speculation, Audi confirmed it will join Formula 1 for the 2026 season. The company's entry into the series will place it head-to-head against rivals like Mercedes-AMG, and the announcement comes as Audi ends its LMDh endurance racing program. The German automaker also showcased its single-seat concept.
Starting with the concept, it is a mockup to showcase the "launch livery", since the design of the single-seaters for the 2026 season is not yet finalized. It is painted in the colours of Audi Sport with red, black, silver, and white graphics, featuring the four-rings emblem on the swan-neck rear wing. The extensive aero looks similar to the single-seaters from the current season with a neatly integrated halo and Pirelli tires. According to the description, "The vehicle shown is a concept vehicle that is not available as a production model", making it clear that it won't be turning its wheels in anger.
While Audi does not have an official history in F1, it did feature prominently in Grand Prix racing that preceded the series' official formation in 1950. Audi raced as Auto Union from 1935 to 1939, winning 25 races in the first three years alone with famous drivers like Hans Stuck and Bernd Rosemeyer. Audi even named the W16-engined Audi Rosemeyer concept after the latter – a car that many saw as the precursor to the Bugatti Veyron.
The automaker's press release also includes information about Audi's power unit for Formula 1. It will be built at Audi Sport's Competence Center Motorsport in Neuburg. The facility already has test benches for F1 engine testing with additional preparations currently being made to meet the requirements for F1 powertrain development.