Beer Truck Falls In Anambra, Residents Scramble To Get Free Drinks (Video)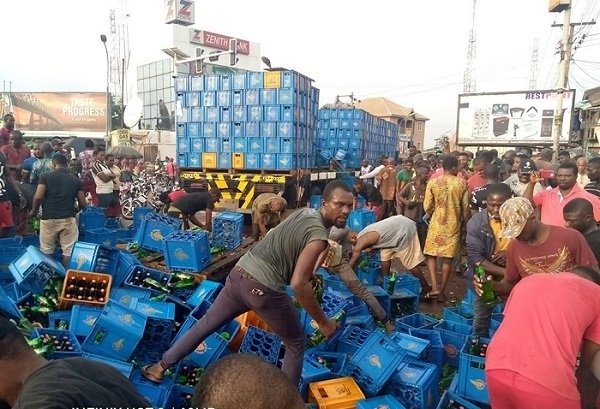 Anambra residents shunned social distancing on Friday to have free drinks after a truck spilled beer crates onto the road.
The incident happened at Ekwulobia in Anambra state.
A delivery truck on Friday spilt dozens of beer crates onto the road while driving through Ekwulobia in Anambra state.
The incident caused a massive roadblock, forcing residents to the scene to take their own share.
According to a trending video that was posted on the social media, residents of Ekwulobia in Anambra state could be seen ransacking through the crates to search for bottles that still have contents.
With the residents scrambling to have their own share of free drinks, it was very difficult for them to obey the government's social distancing directive.
"Social distancing" is one of several measures aimed at curtailing the spread of the coronavirus pandemic in the country.
As of May 9, Nigeria has 3,912 cases of the virus with 117 deaths. 679 patients have been discharged so far.