Brabus Unleashes World Fastest SUV In The 900 Rocket Edition (Photos)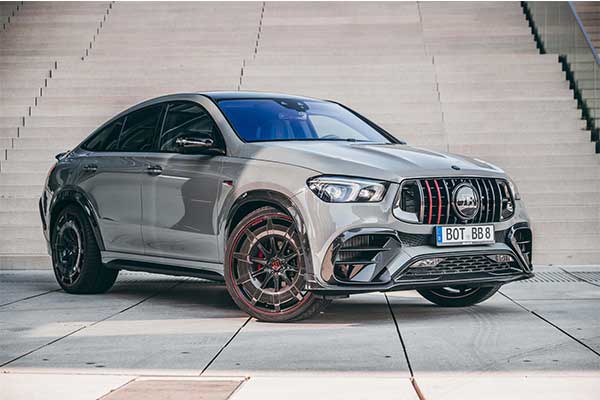 Brabus has unveiled the world fastest SUV in the guise of the 900 Rocket Edition at the 2021 Monaco Yacht Show. The company claims that the SUV has a top speed of 205 mph and is street legal.
Brabus will produce only 25 examples of the GLE Coupe-based 900 Rocket Edition, with prices starting at €381,243 ($447,407), excluding taxes.
This rocket of an SUV still uses a twin-turbocharged V8 like the standard GLE 63 S, but the displacement has been increased to 4.5 litres and it receives a high-performance forced induction system. Outputs are now 900 PS (888 hp) and 922 lb-ft of torque, although Brabus says torque has been limited to 774 lb-ft. For perspective, the regular GLE 63 S Coupe makes 603 hp and 627 lb-ft. It does 0 to 62 mph in just 3.2 seconds at a top speed of 205 mph which in all indications leaves the Lamborghini Urus in the dust. To achieve that max speed, customers will have to equip the 900 Rocket Edition with 23-inch wheels.
With great speed comes great mods and Brabus fitted this SUV with new turbochargers, larger forged pistons, longer forged piston rods, a billet crankshaft, high-pressure pumps, larger downpipes, and various software updates. Power is transmitted to all four wheels thanks to the 4MATIC+ system through a 9-speed automatic gearbox.
Brabus decorates the exterior of 900 Rocket Edition with a variety of carbon fibre components with an exposed finish. It rides on 24-inch forged wheels with carbon aero discs on them. Inside, there's a mix of leather and Alcantara with carbon fibre trim. The air vent surrounds, speaker grilles, pedals, and even the window switches are all finished in red.