The Moment President Buhari Arrived Eko Theater In His Presidential Mercedes S-Class (Video)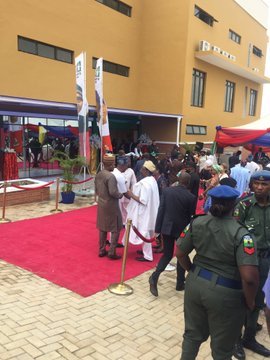 Yesterday being the 24th day of April 2019, the president of Nigeria, Muhammadu Buhari, was on an official visit to Lagos state. He went to Lagos to commission some of the projects that were being handled by the Lagos state government.
Some of the state project he commissioned include the rehabilitated 10-lane Oshodi – Muritala Muhammed International Airport Road; the 170-Bed 'Ayinke House' (Maternity Hospital)) at the Lagos State University Teaching Hospital (LASUTH) Ikeja; the Lagos State Theatre at Oregun, Ikeja; new 820 Mass Transit Buses and the multi-level Oshodi Transport Interchange along the Apapa-Oshodi Expressway.
In this video, the president was being driven into the Eko Theater in the presidential Mercedes Benz S-Class; armoured S600 precisely.
Watch the video below;
PMB's arrival at Eko Theatre, Oregun #PresidentialWorkingVisit #ItesiwajuIpinleEko #LASG pic.twitter.com/q4W5aebZjv







— The Lagos State Govt (@followlasg) April 24, 2019
See more photos below;