Check Out The Retro Styled Mitsuoka Viewt That has The Styling Of A Jaguar But Bones Of A Yaris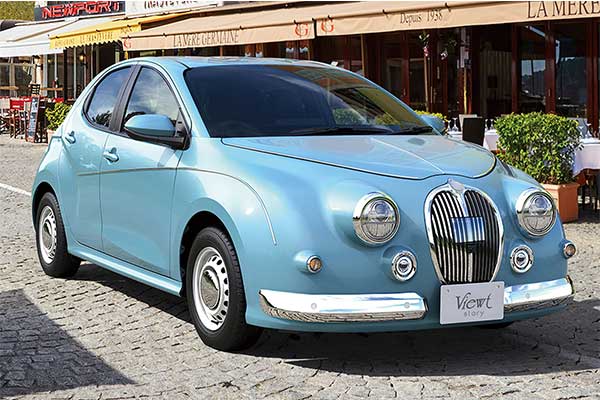 Mitsuoka, a Japanese company best known for flavoring popular Japanese cars with retro bodies, has just launched a new Viewt. Called the new Mitsuoka Viewt Story, the car effectively replaces the Viewt supermini and it is based on the new JDM Toyota Yaris.
The Viewt is once again styled after the classic 1963 Jaguar Mark 2, with the Yaris completely redesigned at the front, replacing the bonnet, fenders, front mask, and all light fixtures. But this time, Mitsuoka engineers took a simplified path and did not turn the hatchback into a sedan, an additional trunk tail of the new model was not allowed.
Although the Yaris's stern has been redone (there are new lights, a fifth door, and a bumper), it bears no resemblance to the Jaguars. The length of the new retro Viewt is 4090 mm against 3940 mm for the basic Yaris, the width (1695 mm) and height (1500 mm) have not changed. The main change in the cabin of the Viewt is the new retro-style seat upholstery. Under it, fittings were also made on the doors and on the front panel, but there are no more radical changes. Other than that, the rest is all familiar Yaris stuff, including the infotainment and the Toyota Safety Sense ADAS suite.
Three engine choices are up for grabs. The Viewt can be specified with minuscule 1.0-liter and 1.5-liter three-cylinder powerplants. The smaller motor can only be fitted with a CVT transmission, while the latter offers a manual gearbox option.
The 1.5-liter Viewt can also be equipped with all-wheel drive, but springing for this option forces you to take the CVT. Lastly, there's a hybrid derivative that uses a 1.5-liter engine paired with an electric motor. Here, an eCVT transmission is the only option.