Check Out The All-Wheel Drive Electric Car Prototype Designed For Nigerian Roads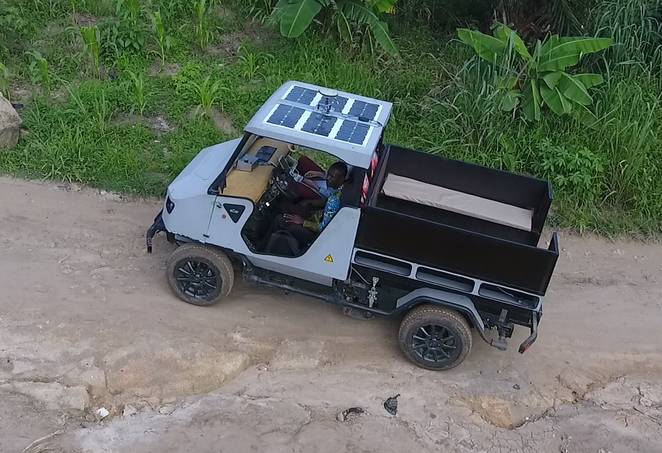 With a few exceptions,most electric cars are delicate, expensive creatures designed for paved streets. This makes them ill-suited to rural Africa with many roads away from the cities and non paved.
The aCar is meant to be a workhorse,carrying passengers and up to 2,200 pounds (1000kg) of cargo for up to 50 miles (80 km) per charge at speeds up to 37 mph (60 kph) across all sorts of terrain.The cargo bed is designed with modular components in mind,with available options ranging from a basic flatbed to a covered passenger bay to a mobile physician's office or a water treatment station, depending on the intended end use.
The truck is driven by a pair of 8kW electric motors,which are powered by a 48V 20 kWh battery system, which can also be tapped as a power source for other on-site applications.
Charging of the aCar from a 220V household electrical socket takes about 7 hours,and the vehicle has solar modules mounted on the roof to generate some electricity for the vehicle during daylight hours,with the option of adding more solar cells to significantly increase the amount of solar energy produced for self-contained battery charging.
The utility vehicle is all-wheel-drive and off-road capable, making it a good fit for the driving conditions in much of rural Africa.
The aCar cost N4,189,000 (US$11,800),making it far more affordable than the Nissan Leaf and other vehicles that wouldn't be as well-suited for Nigerian roads.
TECHNICAL DATA:
Power output: 2 x 8 kilowatts;
Electric drive range: 80 kilometers;
Voltage level: 48 volts;
Battery capacity: 20 kWh;
Top speed: 60 km/h;
Tare weight: 800 kg;
Load capacity: 1000 kg;
Length: 3.7 m; Width: 1.5 m; Height: 2.1 m;
Seating capacity: 2
Credits:engadget.com,tum.de/en/
See Related Post This Is What You Should Do If An Electric Wire Or Pole Falls On Your Car