Checkout 2 Nigerian Pastors Who Own Rolls-Royce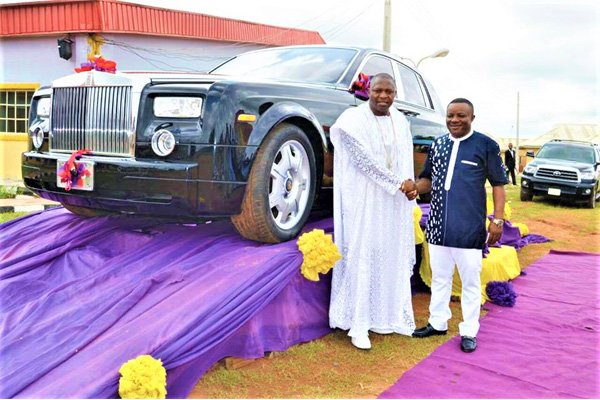 Rolls-Royce is the ultimate luxury machine. It epitomizes sophisticated design with immaculate attention to detail.  Its luxury finishing touches combine with a first class experience for driver and passenger to deliver new levels of exclusivity which the brand's elite customers crave.
To acquire a Rolls-Royce, one would require parting with a considerable amount of money.
In Nigeria, two popular men of God are privileged to own this luxury-on-wheel. Well, the number would have been three had Apostle Chibuzor Chinyere, the General Overseer of the Omega Power Ministries, OPM, not declined to accept a Rolls-Royce birthday gift to him by members of his congregation.
Anyway, here are two clergymen who clearly have the anointing to accept birthday gifts of Rolls-Royce.
Pastor Chris Okotie
Pastor Chris Okotie is one clergy that loves the good life.
This several times Nigerian presidential aspirant is one man that has never been shy to demonstrate his love for luxury cars.
The debonair pastor in charge of the Ikeja-based Household of God's Church International Ministries owns several luxury cars. His garage features cars like Hummers, Range Rover Autobiography, Mercedes Benz, BMW, etc.
In 2013, the former pop-star acquired for himself a 2014 Bespoke Phantom Coupe, Series 2.  The car costs him a staggering N80million.
According to him, it was a birthday and an anniversary gift to himself to celebrate his 27th year as a pastor and 30 years as a born again Christian.
The flamboyant preacher is known to mostly drive himself,  typically in a convoy of cars driven by security details.
He is known to mostly drive himself in a convoy of cars with several security details.
Bishop Tom Sampson
Bishop Tom Sampson is the flamboyant Bishop of Christ Royal Family International Church.
He made news at a point for his acquisition of a stretch Hummer SUV.
Indeed, he sees absolutely no reason why he should not live the life of a royalty. And in living up to the royal status, he received a gift of a car befitting of royalty – a custom-built  2014 Rolls-Royce. It was a gift from some members of his congregation. It was in celebration of his 50th birthday on December 2015.
Bishop Tom Sampson the founder of Royal City College of Education, Iyesi-Ota, Ogun state.