Comprehensive Analysis & Practical Steps to Solving Traffic Issues in Lagos State – trafficchiefng
Start with Data
Formal Analysis, census, how many people live where, own cars, estimates, work, commute. Start. Engage civilians, they've lived there for ages, they know the major causes of traffic in thier area. This will answer the question What causes traffic? Tankers parked on road? Events? From analysis determine where roads need to be widened, Flyovers constructed (e.g. Ajah), extra roundabout, service lane, block roads, etc.
For example, if you knew that 500,000 people lived in Ajah, and 70% of that population have day jobs, 50% of that figure work in Victoria Island then you would have an idea of how many people flow into VI from that axis and that would help with the planning of what needs to be done to make the commute as smooth as possible.
Traffic Cameras/Drones
Traffic Cameras at major locations first, then minor later. Capture traffic offenders, crimes, etc. Drones and their applications in monitoring, surveying, reporting traffic issues, reducing response time etc.
Cameras are static, require little power and don't need to be manned. The cheaper ones can capture what's going on while the more expensive ones have features such as facial recognition and license plate detection. Cameras can be used to monitor traffic, keep an eye out for traffic offenders (speed cameras). Drones on the other hand can be deployed in times of emergencies to give first responders a vantage point on what's happening. First Responders may not be able to get on-site quick enough maybe due to traffic gridlock so they can deploy drones ahead of them.
Plan & Manage Bus Stops
Bus stops right after roundabouts or major junctions? Proper Bus Stops. Cluttered, disorganized bus parking taking up multiple lanes.
Autonomy
Road network projects autonomous of state/federal government, political party, run concurrently, one team given budget to carry out work, contract out, another to keep track of progress and audit expenditure. Like millenium goals.
Civilian Engagement
Embrace crowdsourcing of traffic updates. Support apps, let them connect to LASTMA inner workings and serve as an interface.
Communication
Carry citizens along for the ride. When you make progress sing about it. Broadcast achievements.
Regular Maintenance
Fix roads, fill pot holes, (start with major roads, maintain them regularly)
Enforce Traffic Laws
keep drivers and public transport in check, driving responsibly according to road rules, continuously.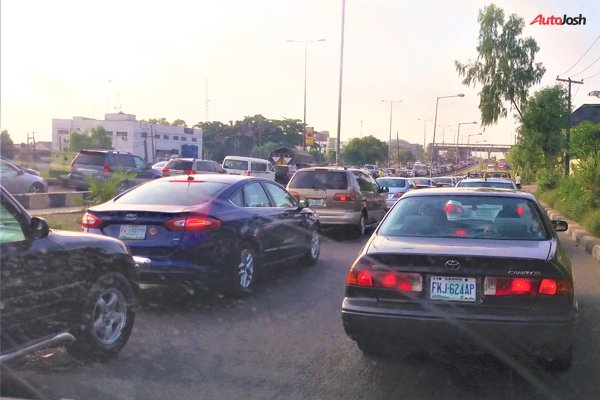 Public Transport
Work on public transport, 30 people in a bus could save 20 cars on the road. Comfort, safety, punctual, dependable, clean,
Diversification of Public Transport
Alternate transport methods: light rail, waterway, licenses, safety standards, maintenance
Bicycle transport within residential or Commercial areas. Congestion charges, source of revenue to government and incentive for drivers to park and walk or use bicycle or public transport instead.
Support Civilian Initiatives
Help carpooling services, support them, spread the word, promote safety, security, incentives, perks
Role of Businesses
People rush out in the morning, return evening. Engage companies to relocate HQ or branches to other areas of Lagos. Encourage to adopt carpooling or staff busses. Get managers on board. Working at home initiatives. Even if not all the time, maybe 1 month in year, appraise based on meeting KPO, even if you can't see them make sure they do job.
Business Locations
Building locations, event centers, churches, fuel stations, banks, etc commercial buildings pulling crowds, make sure they're positioned in correct places with good road networking to allow easy flow of traffic. Ministry of Physical Planning/Urban Development job.
Emergency Response & Protocol
Accident Response time, everything from fallen tanker/trailer to collision. Ask drivers park at side of road, get lastma onsite asap to control traffic, stop stopping to look (by removing incident quickly), quick deployment of heavy lifting machinery, etc.
Credit: Trafficchiefng