Dubai Tram: This Is One Of The Safest Modes Of Public Transport In The World (PHOTOS)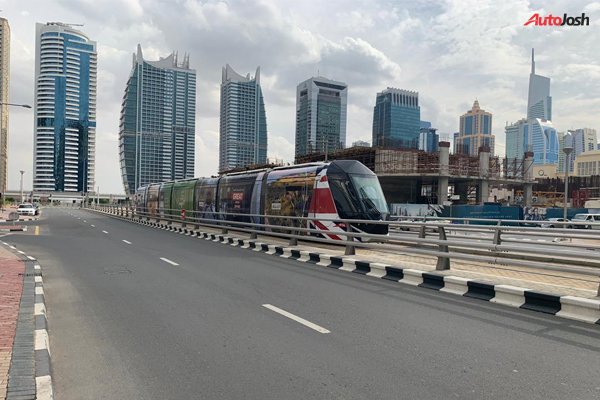 In Dubai, one of the most fascinating features in public transportation is the Dubai Tram. The Tram, which is powered by electricity, is an essential part of Dubai transport network.
Generally, Trams are one of the safest modes of public transport in the world.
What exactly is a Tram?
A tram is similar to a train in many ways. It runs on a railway-like line called a tramway. Just like trains, it consisting of a series of coaches/carriages/vehicles. Trams usually run from a tramway to a railway line. It can also be modified to have the speed of a train.
The Dubai Tramway
The Dubai Tram service links Dubai Metro and the Palm Monorail and runs along Al Sufouh Road and Jumeirah Beach Road.
The tram runs for 14.5 kilometres (9.0 mi) along Al Sufouh Road from Dubai Marina to the Palm Jumeirah and Al Sufouh. It takes about 42 minutes to run from Al Sufouh to Jumeirah Beach residences.
In Dubai, to ride in a Tram, you would need to pay with a Nol card. You can purchase one at any of the Tram or Metro stations. A Nol Card can be used by passengers to check-in and check-out of the tram by scanning (tapping) the card at the platform screen doors.
The Tram has a fixed fare of AED 3 (N300) per ride, regardless of the distance travelled. But if you're paying for a ticket with cash,  you would have to pay at a premium.
The trams run every 10 minutes during peak hours and 12 minutes at all other times. A trip along the entire route takes just over 40 minutes.
The operation of this mode of public transport is fully automated. It provides a vast number of features and services for the convenience of the users. For instance, it is air-conditioned and it also has Wi-Fi access throughout its network. It also has a complete mobile phone network. There is also dedicated Tram police to enforce rules.
So, if you're visiting Dubai, and you plan to stay in Al Sufouh, Dubai Marina, Palm Jumeira, etc., you might need to use the Tram.
The Roads and Transport Authority, commonly known as RTA, a major independent government roads & transportation authority in Dubai coordinates the function of the Dubai Tram.
Autojosh.com takes you to the beautiful city of Dubai, to show you some photos of the fascinating Tram.