8 Japanese Automakers And Their First Cars (Photos)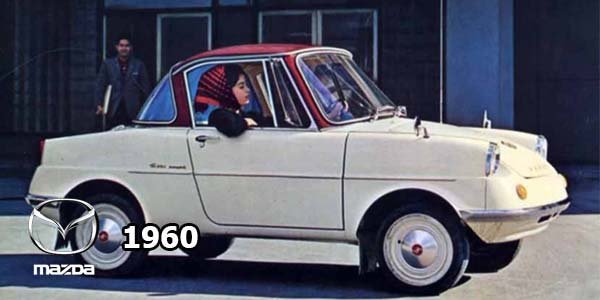 The company's name was known as Toyoda when the G1 was first revealed in November 1935. Toyoda wasn't too sure of the G1 that they loaded it with many replacement parts on its first road trip to an Auto Show incase something broke on the way. It was so unreliable that it was only bought by people who were sympathetic to local manufacturers and who were willing to endure its many failures.. and they were usually repaired for free by Toyota's factory engineers who used the opportunity to understand the vehicles even better.
Launched in August 1963 with a 30hp engine at 8,500 rpm. 108,920 units of this rear wheeled pick up were produced between 1963 and August 1967.. and they all came in blue colour.
Nissan started building the Model 70 in 1937 as a replica of the Indiana USA based Graham-Paige.. This was due to the fact that Nissan built a new factory in Yokahama in 1934, and all the defunct Graham Paige's equipment was installed in the new factory. This huge investment gave Nissan the largest and most modern factory in Japan at that time. The Model 70 had a 6 cylinder engine producing 85hp.
It came with a 1.5 litre four-cylinder engine which was sourced from Peugeot and the car in-fact looks like a Peugeot 403. Only 20 were built, all in 1954. Six units were provided to taxi companies for testing.. and they all had successful results.
Built from 1955 to 1969, the Suzulight created the pathway for Suzuki to enter the car market after making motorcycles successfully. It came with double wishbone coil-sprung suspensions, with rack-and-pinion steering which made the car to be far ahead its time and peers.
Mitsubishi company was established as a shipping firm by Yatarō Iwasaki in 1873. The company later diversified into banking, trading and manufacturing of Automobiles amongst others. The Model A is the first car to be produced in Japan in 1917.. It has 35 hp, 2.8-litre straight-4 engine with rear wheel drive.. and it was capable of speeds up to 97 km/h.
Introduced in 1960, it's a two-door, four-seat coupe powered by a rear-mounted air-cooled 356 cc V-twin engine which produced 16 hp and 16 lb·ft of torque. It had 4-speed manual or two-speed automatic transmission with max speed 84 km/h.
Despite being the first Auto Company in Japan (founded in 1916).. Isuzu didn't manufacture it's first vehicle till 1961. They only distributed vehicles on behalf of other manufacturers before the debut of the Isuzu Bellel.. and it's the first passenger car in Japan to have a diesel engine.
Photos from Autosportsart
See Related Post 9 Amazing Lexus Facts You Need To Know