Hollywood Star, Gabrielle Union Gifts Her Husband, Dwyane Wade, A Ford Bronco Roadster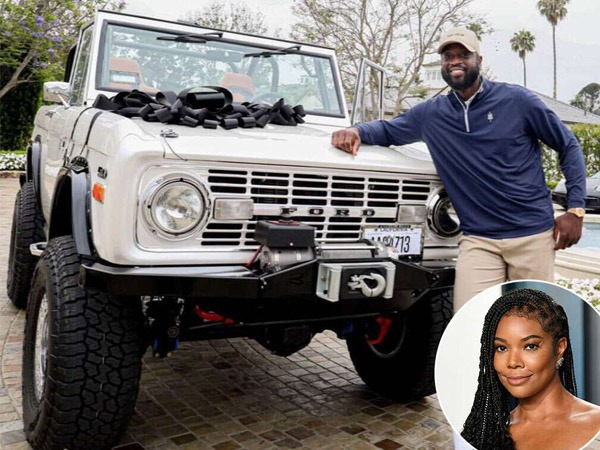 Retired NBA star, Dwyane Wade received a memorable Father's Day gift from his movie star wife, Gabrielle Union.
The gift, a brand new Ford Bronco Roadster, was presented to the Miami Heat legend to celebrate him on Father's day.
In a video that was shared on Instagram by Wade, Gabrielle Union, while presenting the car to her husband said ;
"Don't ever say I didn't do nothing for you, i love you."
The visibly elated Dwayne took to his social media page to share the news with his fans ;
He captioned the video:
Happy Fathers Day to Meeeeee!!!! I mentioned years ago that when I moved to LA I would love a Bronco‼️Well, the wife was listening. Thank you @gabunion you did that!!!!
The 38-year old Dwyane Tyrone Wade Jr spent the majority of his 16-year career playing for the Miami Heat in the National Basketball Association (NBA). He retired from professional basketball in 2019.
He got married to the 47-year old star actress, Gabrielle Union on August 30, 2014.
Watch the video of the presentation of the Father's Day gift to Wade below.
Ford Bronco
The Ford Bronco is a model line of SUVs that were manufactured and marketed by Ford from 1965 to 1996.
The first Bronco was assembled using its own chassis, while the full-sized Bronco was derived from the Ford F-Series (F-100, later F-150) pickup truck. All Broncos were produced with four-wheel drive powertrains.
The Ford Bronco was withdrawn from the light-truck model line following declining demand for two-door SUVs.
For the 1997 model year, Ford replaced the Bronco with the Expedition, a four-door SUV based on the F-150 (the later Ford Excursion was based on the F-250 Super Duty).
From 1965 to 1996, Broncos were produced at Ford's Michigan Truck Plant in Wayne, Michigan. In 2017, Ford announced the reintroduction of the Ford Bronco as a mid-sized SUV (derived from the Ford Ranger) as a 2021 model; manufacturing is to return to Michigan Assembly.