Ford Bronco To Get The Velociraptor Treatment With A 750Hp V8 Engine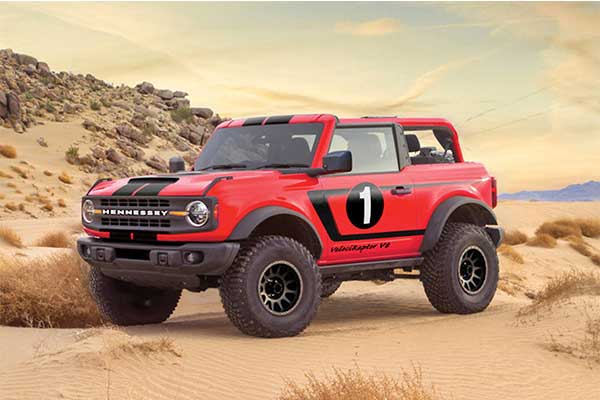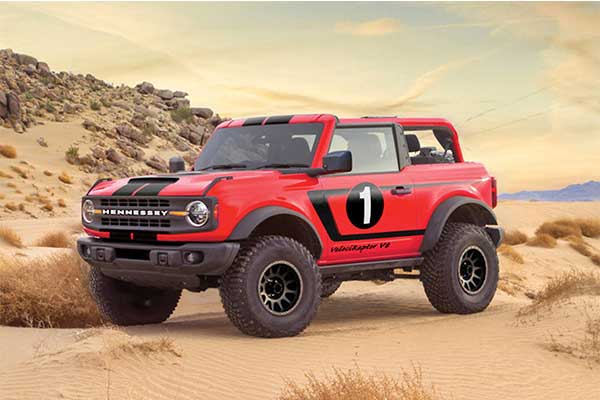 The Ford Bronco will arguably be the SUV to watch for 2021 but it doesn't stop there as Hennessey announces a Velociraptor model. This model will be limited as only 24 units will be made with a price tag entering 8 digits. Unlike the regular Bronco, this model is highly modified and will have a powerful V8 engine which will output a whopping 750hp.
The engine of the Velociraptor Bronco will be a 5.0-litre Coyote V8 engine which is Ford sourced. There's also an air-to-water intercooler, high-flow air induction, and upgraded fuel system. The gases exit out of an upgraded stainless steel exhaust. It will come in a 10-speed automatic transmission (stock). It will sound as good as it goes, too, with a stainless steel cat-back exhaust. This beast will do 0 to 60mph in 4.5 seconds which is very impressive.
Like with all Velociraptor model before, Hennessy will upgrade the Bronco with larger wheel-and-tire package. Expect the suspension to be upgraded for serious offroading to make the SUV more menacing. The front and rear bumpers will be manufactured in-house, with LED auxiliary lights, and the vehicle will feature a unique, custom Hennessey interior with embroidered seat headrests.
Hennessey says that the Velociraptor V8 Bronco will come in at around $225,000 (₦87m before shipping). This price tag is 4 times more than a top model Bronco. They will be built with its own special, serialized plaque to differentiate each model. The Velociraptor treatment will be available in the 2door and 4door variant of the Bronco.