Ford Performance Builds One-Off, Track Ready Explorer ST For Racing Schools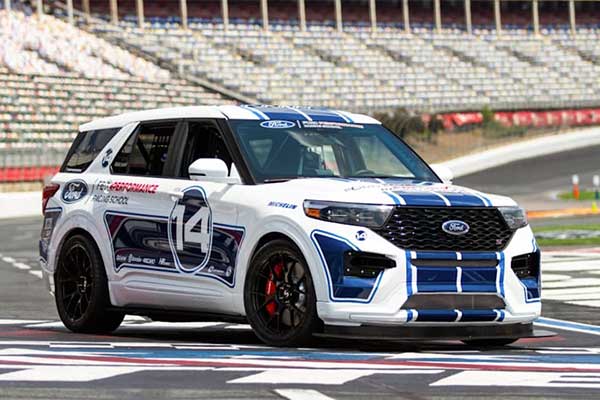 Ford Performance just unveiled this heavily modified Explorer ST that will be used for the racing school's programs. This track-ready SUV will be on display at this year's Woodward Dream Cruise, this coming Saturday.
Designed to promote the Ford Performance Racing School, the model features a white exterior with contrasting blue racing stripes. The Explorer has also been equipped with a front splitter, window nets and 21-inch Signature Wheels wrapped in Michelin Pilot Sport Cup 2 tires.
Although Ford didn't show many interior images of the one-off Explorer ST, but it features a custom safety cage and four Recaro Cross Sportster CS seats with four-point harnesses. It's also safe to assume the cabin has been gutted, but nothing is official at this point.
Under the hood is a tune from HP Tuners that gives the SUV more oomph, though Ford doesn't specify its new numbers. The Explorer ST packs a twin-turbocharged EcoBoost V6 that produces 400 horsepower (298 kilowatts) and 415 proud-feet (563 Newton-meters) of torque. The one-off Explorer should see a modest increase in output without needing new hardware, though that could have really upped its performance credentials.
The new one-time Explorer is designed to draw attention to the racing school that was founded in 2006, which offers high-performance driving instruction and the company's additional programs that it offers to new Ford Performance car buyers.