Ford Trademarks New Mustang "Dark Horse" Special Edition Trim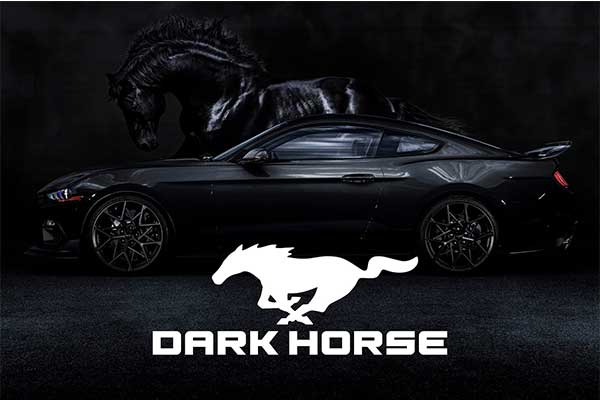 Ford has applied for a trademark for the name "Mustang Dark Horse" with the European Union Intellectual Property Office, hinting at a tantalizing new trim pack in the company's pipeline.
Trademark filing 018721280 is for the use of "Mustang Dark Horse" for four-wheeled land vehicles namely electric cars, sport utility passenger automobiles, none of the foregoing including motorcycles, two-wheeled vehicles, and tires.
While the filing could be for a model set to arrive with the seventh-generation Mustang known as the S650, it's probably not the case. The more likely scenario is Dark Horse is the name that will be applied to Ford's new Black Accent Package, which includes black-painted wheels and black pony badges and seemingly a black-painted wing.
We'll have to wait for official comments from Ford, but we expect that this new accent package will be offered on both the fastback Mustang and the all-electric Mustang Mach-E crossover. As for pricing, we have no idea what to expect, but we predict that the premium over regular Mustang and Mustang Mach-E won't be huge.
The all-black aesthetic is a timeless one, with various automakers flirting with it to some degree or other over the years. Rolls-Royce tinkered with the murdered-out look in recent years, though didn't quite commit fully and left some contrasting chrome in its designs. A sharp matte black finish is also available on the 2023 Toyota Tundra, and it comes complete with a blacked-out interior and debadged doors.