Ford Unveils F-150 Lightning Platinum Black Edition (Limited Model)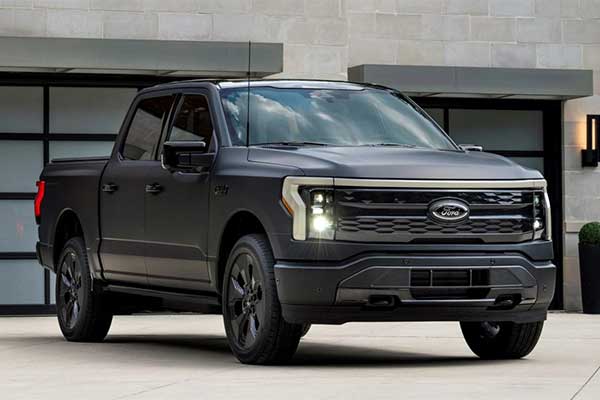 Ford is channeling founder Henry Ford's very famous quote: "Any customer can have a car painted any color that he wants so long as it's black". The company is going back to its roots by unveiling the F-150 Lightning Platinum Black Edition.
This is a limited edition of the F-150 Lightning, which, you guessed it, is all black. But wait, there's more! It's actually matte black, which makes this Ford's first-ever matte production truck.
Ford describes it as "a monochromatic electric truck, combining the tech and power capability of the high-end Platinum trim level" with the special matte black colorway.
Only 2,000 units will be made, with deliveries set to start in early 2024. Limited to just 2,000 units, this new edition will be the company's first matte-wrapped production truck and will cost a whopping $97, 995.
So here's what you get if you decide to grab an F-150 Lightning Platinum Black Edition, aside from the obvious black body paint:
22″ matte black wheels and lug nuts;
a black Ford badge;
Power-deployable running boards with Agate Black gloss accent;
a soft-shell black tonneau cover;
a "distinctive smoked signature light bar";
a reflective black-on-black Lightning badge that appears to glow when lights flash over it at night;
an Agate Black gloss roof "that blends with the glass to create a smooth surface, making the non-reflective matte black exterior stand out even more";
Agate Black door handles "to protect this high-touch area from smudging";
Lightning graphics on roof glass above passenger seating;
"Luxe black premium Nirvana leather seating surfaces";
an aluminum plate in both the frunk and inside the driver's door jamb with limited edition numbering.
That's a lot of black for sure! Ford says "matte finishes are trending in homes, cosmetics and now vehicles, while black is always in style. This powerful blend of trendy and classic takes the F-150 Lightning Platinum to the next level and makes the truck stand out next to conventional paint options", and we'd have to agree.