Ford's Mustang GT3 Racer Almost Ready For The Le Mans 2024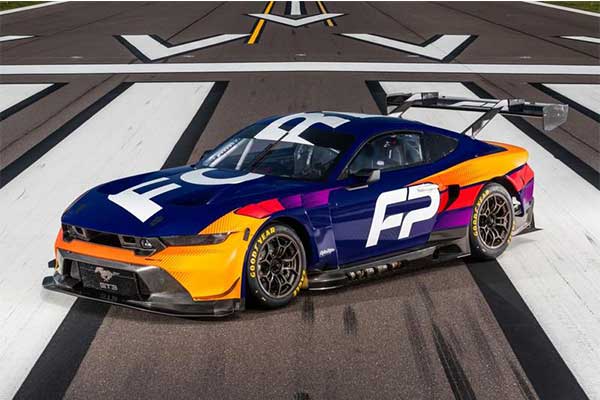 As soon as this year's 24 Hours of Le Mans has started, numerous car manufacturers are already looking ahead to next year's races. For example, Toyota and Alpine today presented their new hypercars for 2026 and 2024. Ford will be there again next year with this Ford Mustang GT3. From next year, GT3 racers will also be allowed to compete in the World Endurance Championship, which includes the 24 Hours of Le Mans.
The Ford Mustang GT3 is based on the new Mustang Dark Horse, according to Ford, but the differences are of course huge. For example, the Mustang GT3 has been expanded all around and there is both an immense rear spoiler and a gigantic diffuser on the back. The interior is a completely different story because in it you will find a carbon fiber racing fairing from Recaro, a GT3 steering wheel and a digital display, and not much more. Of course, things like a roll cage and fire extinguisher have been added.
Technically, the GT3 is quite a special story. For example, it has a completely redesigned suspension and the engine is also lower in the nose than usual. That is still just a V8 like in the Dark Horse, but of course, that is no longer the standard engine. M-Sport, with which Ford cooperates in the WRC, has taken care of the Coyote V8. The stroke volume is now 5.4 liters and you can count on it that the power of roughly 500 hp of the Dark Horse is amply exceeded. The Mustang GT3 also has its gearbox in the back.
The Ford Mustang GT3 can therefore prove itself next season. CEO Jim Farley is certainly looking forward to it: "Ford and Le Mans are linked through history. Now we come back to the most dramatic, most rewarding, and most important race in the world. It's not Ford versus Ferrari anymore. It's Ford against everyone." The tone is set.