Four Die, 26 Sustain Injuries In Ghastly Accident Involving Top Transit Buses Along Benin-Ore Road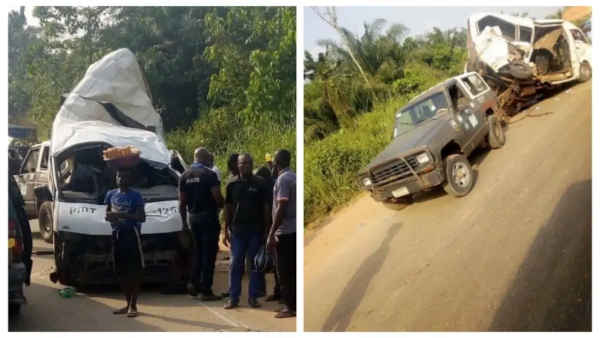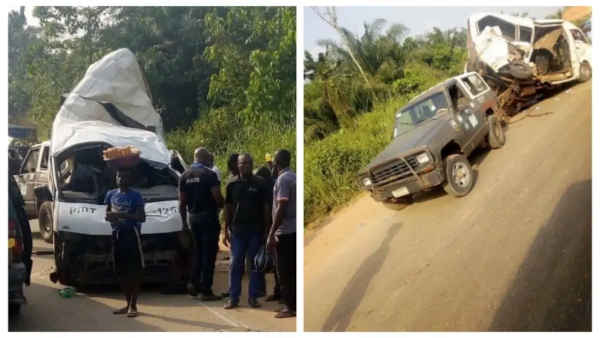 Earlier today, not less than four people died, while 26 others were seriously injured in a road accident. The road accident occurred on Lagos-Ore-Benin expressway in Ondo State. It involved a Peace Mass Transit and a GUO bus.
The Head of Operation and Deputy Sector Commander of the Federal Road Safety Commission (FRSC), Ondo Command, Mr Olusegun Ogungbemide, confirmed the incident to the News Agency of Nigeria (NAN).
According to Ogungbemide, the accident happened on Wednesday.  He said it involved a Toyota Hiace bus belonging to GUO Transport marked ACA 606 XT, and a bus belonging to Peace Mass Transit marked with registration number AKL 846 YY.
Speaking further, he disclosed that there are 12 male adults, 16 female adults and two children on the buses. Adding that four people died immediately, while 26 sustained injuries including 10 male adults, 14 females and two children.
" They included 12 male adults, 16 female adults and two female children.
"Four people died instantly, 26 were injured including 10 male adults, 14 female adults and two female children," he said.
According to him, the injured had been taken to Ore General Hospital while the corpses had been deposited at Opeyemi Hospital in Ore.
Ogungbemide, who said that the two vehicles had been towed away by the police, admonished all motorists to shun over speeding, especially during the Yuletide.
In a similar report, the Federal Road Safety Corps (FRSC) and the Nigerian Police Force have confirmed the death of not less than 28 passengers on Thursday. This was the result of a head-on collision involving two vehicles along Bauchi-Ningi Federal Highway, Bauchi State.
FRSC operatives confirmed that the accident involved two motor vehicles. The vehicles were a Toyota Hummer bus conveying twenty-two passengers and J5 bus conveying four passengers and twenty cows. The 28 people were burnt beyond recognition. They include 4 male adults. The driver of the bus survived.
However, according to the police, 10 cows survived while 10 other cattle were burnt beyond recognition. From the 10 surviving cows, eight were later slaughtered due to their fragile conditions. The FRSC Bauchi Sector Commander, AbdulRazak Najume, told newsmen that the accident occurred in the early hours of Thursday.