GMC Unveils Its Most Off-Road Capable Pickup Truck In The Sierra 1500 AT4X AEV Edition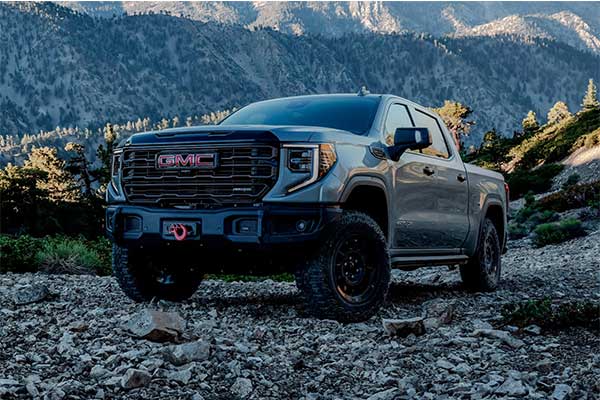 GMC just dropped a new Sierra 1500 variant that is essentially tailor-made for the increasingly growing group of off-roading and overlanding enthusiasts. The 2023 GMC Sierra 1500 AT4X AEV Edition is "the most off-road capable factory Sierra 1500 ever," according to GMC.
The AEV Edition adds stamped steel bumpers with heavy-duty recovery points, winch capability, five hot-stamped boron steel skid plates, and laser-engraved 18-inch AEV Salta wheels with a recessed air valve system, 33-inch Goodyear Wrangler Territory MT tires, and available off-road rocker panel protectors.
Visually, GMC changed out the grille and front fascia to accommodate the new bumper and larger tires. Not only does it look properly aggressive, but it also improves the off-road stats. GMC says the front approach angle sees the most improvement to 32.5 degrees (up from 25.4 degrees). The departure angle improves to 23.4 degrees (up from 23 degrees) while the breakover angle improves to 23.0 degrees (up from 22.7 degrees). The truck's ground clearance also increases to 11.2 inches (up from 10.8 inches).
Smaller design touches include gloss black door handles and a black contrast inner tailgate. As an option, customers can add rocker panel protectors that guard the side sills and frame rails. Bolt-on-step assists are another available upgrade. The standard AT4X's emphasis on luxury also carries over to the AEV Edition. That includes the standard massaging leather seats, Vanta ash wood trim, 12-speaker Bose audio system, and GMC's full complement of screens.
The features build on the AT4X's already impressive list of off-road equipment that includes front and rear e-locking differentials, Multimatic DSSV dampers, and a Terrain mode that allows for one-pedal driving. They're joined by a standard 6.2-litre V8 engine pumping out 420 hp (313 kW / 426 PS) and 460 lb-ft (623 Nm) of torque. There's a ten-speed automatic with a transfer case that offers four-wheel-drive high- and low-range gearing.