Google Updates Android Auto With A New Revised Design And Digital Car Key Support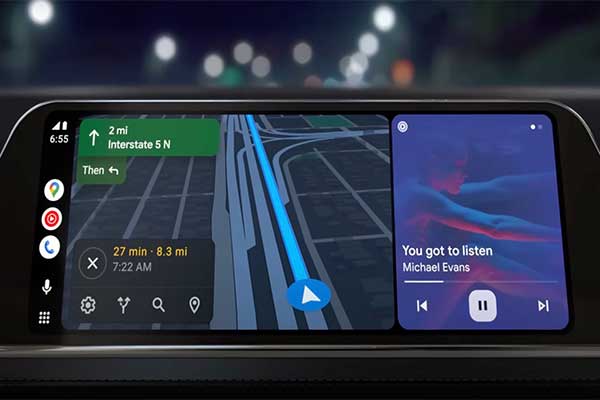 The major redesign of Android Auto, first announced last May, is finally available to everyone. The update brings a whole new look to the software along with a host of new features ranging from a more capable version of Google Assistant to shareable car keys. Google announced the launch at CES 2023, and the update will begin rolling out to drivers right away.
The new user experience design update features a split-screen layout that displays directions, music, and texts — the essentials — at the same time. Now drivers won't have to leave map view and navigate through menus and settings to quickly pause a song or see a message.
Google said the split-screen layout is compatible with all cars so it can reconfigure itself based on whether the car's screen is portrait, widescreen, or any other size.
While the Android Auto update refines the user experience, Google is also adding new features. Broadening the usability, the tech giant says it's enabling Pixel and Samsung phones to make WhatsApp calls. However, this feature isn't yet available. Instead, Google notes that it's coming "soon." The overhaul includes a progress bar, enabling speedier call functionality and message replies. This applies to music and podcasts, too. Users can now skip songs or an episode of their favorite podcast.
In addition, Google also showcased HD maps for the first time and unlike Google Maps, Google's HD map is not a consuming-facing application but an additional layer of data that is served to the vehicle's L2+ or L3 assisted-driving systems through Google Automotive Services.
If you've got a car with Android Auto, you should be getting the update soon, as it has already begun rolling out.