Hennessey Launches The VelociRaptor 500 Bronco With 500Hp Twin Turbo V6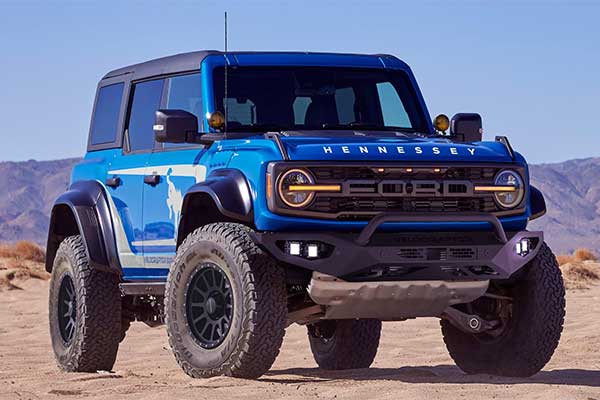 Hennessey has been cranking out harder-core versions of sporty Fords for a long time and currently offers several models from The Blue Oval, including a brand-new Bronco VelociRaptor 500. Building on the already-bonkers Bronco Raptor, Hennessey's upgrades boost power by almost 20 percent and add a menacing stance.
The company upgraded the Bronco's twin-turbocharged 3.0-litre EcoBoost V6 engine. The aftermarket specialist added new engine management software, a high-flow induction system, an upgraded stainless steel exhaust, and a larger intercooler system. The changes increase the powertrain's output to 500 horsepower and 550 ib-ft of torque. Hennessey says it's a 20 percent increase over the stock Bronco Raptor, which makes 418 hp and 440 lb-ft of torque, and the match checks out.
"Our customers are big fans of the new Bronco, but they've been asking us for more power and greater performance capabilities from day one," said John Hennessey, the company's founder and CEO. "Ford's Raptor version is a big improvement, but the engine has even more potential. Our engineering team has released its potency to create the ultimate all-powerful off-road SUV."
To make the VelociRaptor Bronco 500 different from the stock Bronco Raptor, Hennessey adds its own front bumper bar with an integrated push bar, custom 18-inch wheels with 37-inch off-road tires, additional lighting, automated fold-out steps, and custom graphics and badge package. The interior also receives some touches in the form of embroidered head restraints, all-weather floor mats, and a serial-numbered plaque. A plaque is also fitted in the engine bay.
The Hennessey VelociRaptor 500 Bronco is available now through authorized Ford retailers or directly from Hennessey. Starting MSRP for the package is $32,950 (which does not include the initial purchase of the standard Bronco Raptor). Every Hennessey VelociRaptor 500 Bronco is road-tested at the company's private track and comes with a three-year, 36,000-mile warranty.