Ford Bronco Joins F-150 And Ranger To Get The Raptor Treatment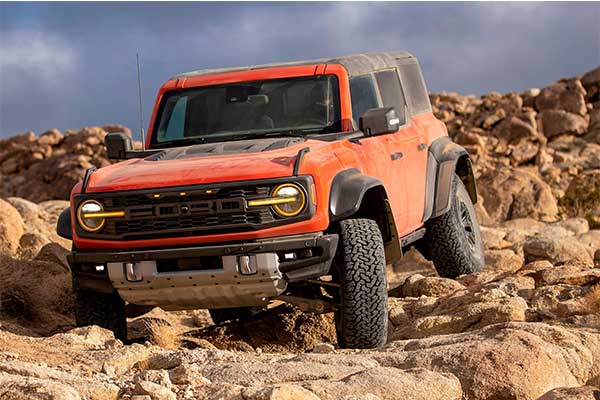 Ford Bronco is an impressive offroad oriented SUV that is versatile and tough, now add Raptor to the mix and you get an even more impressive offroad SUV, powerful and fast (to a certain degree).
The new Bronco Raptor is 9.8 inches (25 cm) wider than a base four-door, with plenty of visual cues to remind onlookers that this is no ordinary Bronco. It measures 116.5 inches (296 cm) in length, 77.8 inches (198 cm) tall, and 86.9 inches (221 cm) wide, with a base curb weight of 5,733 lbs (2600 kg). Ford says that the Bronco Raptor is the world's 1st Ultra4 Racing-inspired SUV which is capable of highway-speed desert-dune conquering and Baja rock-crawling.
"We poured all of our passion and all of our Bronco and Raptor know-how into creating this absolute desert-racing beast," said Ford CEO Jim Farley. "It's the real deal. It's not for show and it's not for everybody. But for people who love to get out in the wild, it's the ultimate. And only Ford could create a Bronco Raptor."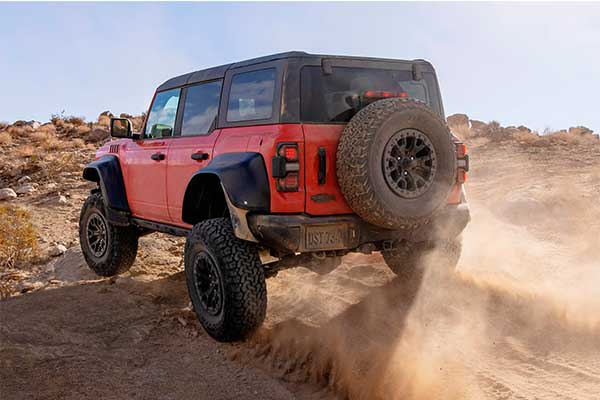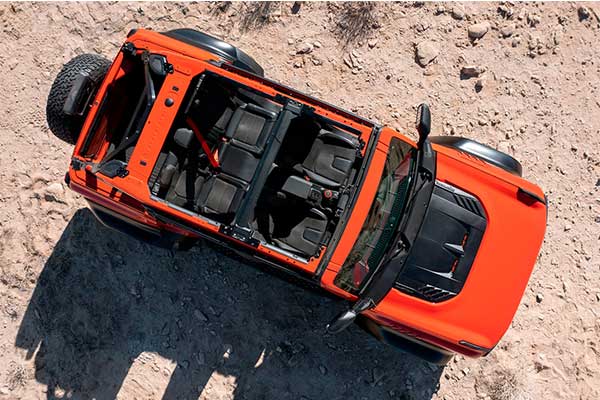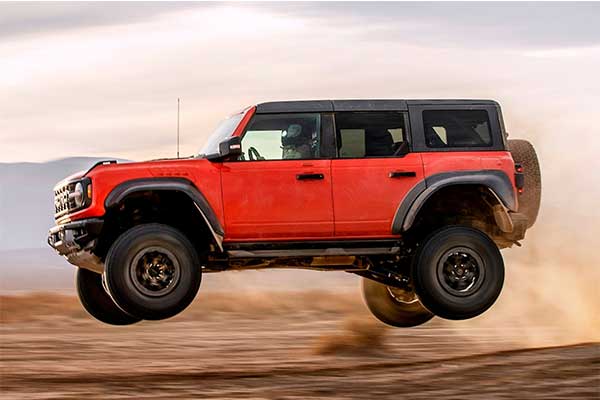 As predicted, the Bronco Raptor comes with a 3.0-litre twin-turbo EcoBoost engine that provides "more than 400 horsepower." Power is sent out to all corners via a 10-speed automatic gearbox exclusively. You also get a Raptor HOSS 4.0 race-ready suspension system, a fully-boxed, high-strength steel frame, and 37×12.5-inch all-terrain tires as standard (the largest of any production SUV in America). Two Ford Performance-designed bead-lock-capable wheels are available too. And with 9.8 inches more width than the base Bronco, Ford says that high-speed cornering can be confidently undertaken.
Inside, Bronco Raptor features a 12.0-inch touchscreen and a 12.0-inch digital gauge cluster. Sport bucket seats with heavy bolstering are wrapped in marine-grade vinyl on base models. Black or blue suede upholstery from the Raptor pickup will be available, along with a vinyl-wrapped instrument topper. The steering wheel sports the trademark Raptor red line at the 12 o'clock position and hides column-mounted magnesium shift paddles. Buttons for the active exhaust, suspension, and steering modes adorn the steering wheel, along with a new R mode button, which can be programmed to quickly choose your preferred suspension, exhaust, steering, drive mode, and 4×4 settings.