Hennessey Unveils Track-Focus 1817 HP Limited Edition F5 Revolution Hypercar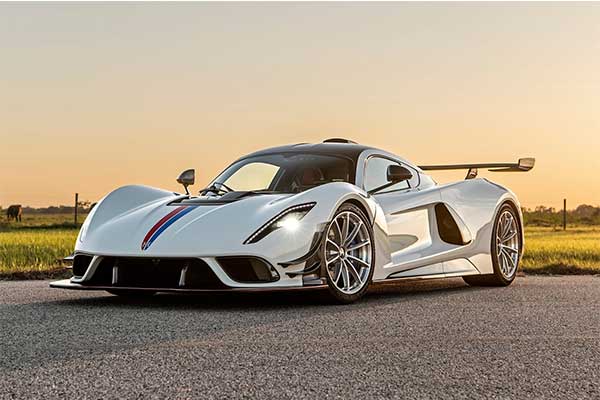 Hennessey isn't finished milking the Venom. The Texas performance shop revealed the Venom F5 Coupe in December 2020, the Venom F5 Roadster in August of last year, and is kicking off 2023 with the Venom F5 Revolution Coupe. In Hennessey's hierarchy of speeds, the original car was engineered to reach the highest production-car top velocity; the Roadster that followed was engineered to provide the most visceral experience; this F5 Revolution was made to master the track.
Based on the existing architecture of the F5, the new arrival maintains the 6.6-liter twin-turbo V8 dubbed 'Fury.' That means you still get access to 1,817 horsepower, but with less weight, more downforce, and improved handling, the Venom F5 Revolution "offers the nimbleness of a fighter jet, yet with a power plant like a Saturn V rocket!" exclaims founder John Hennessey.
Exact performance figures have not yet been revealed, but Hennessey has said that the special edition weighs less than 3,000 pounds and is the lightest Venom F5 model to date.
Hennessey made most of the changes to the car's aerodynamics and suspension. A large, adjustable full-width rear wing with endplates helped the automaker increase the car's downforce, delivering more than 800 lbs (362 kg) at 186 miles per hour (300 kilometers per hour). That figure rises to 1,400 lbs (635 kg) of downforce at 249 mph (400 kph). Power routes to the rear wheels through an automated single-clutch gearbox.
Only 24 examples of the Revolution will be made and has a base price of $2.7 million, putting it midway between the standard $2.1 million F5 Venom coupe and the $3 million Roadster. Some of those 24 have already been allocated, and there's a chance a few more build slots might find owners when the car makes its global debut at the Miami Motorcar Cavalcade Concours d'Elegance on January 15.