Honda Set New Nürburgring Record With 2023 Civic Type R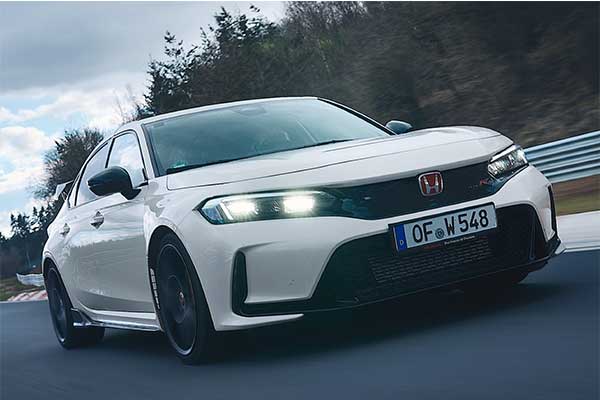 The new Honda Civic Type R has followed in the tyre tracks of its predecessor by leaving the rest of the front-wheel-driven world for dust. Yep, it's broken the Nurburgring lap record again.
First, the facts. The new FL5 Civic Type R ripped through the 'Ring's 150+ corners in 7 min 44.881 seconds, taking half a second out of the 7 min 45.389 second time set by the Renault Megane RS Trophy-R in 2019. The FL5's time was slower than the record set by its FK8 predecessor in 2017, but the FL5 was running the newer, longer, 12.9-mile course, whereas the FK8 was timed on the older 12.8-mile configuration of the track.
"Six years after the lap record was set by the previous-generation Civic Type R, we reached this new dimension as a result of all of the passions we poured in and all the advancements we made for this Type R model," said Hideki Kakinuma, the model's development leader.
The 2023 Type R lapped the 'Ring wearing Michelin Pilot Sport Cup 2 Connect tires, which the automaker says are available through its dealers. The Civic's standard rubber is Michelin Pilot Sport 4 S tires.
Regardless, the Civic Type R once again wears the front-drive 'Ring crown. And it adds that to its Suzuka lap record, where it went 0.873 seconds faster than the old car.
But we're sure Renault is eying taking the 'Ring record back. And with how much faster then Megane R.S. Trophy-R was than the old Type R, Honda should be worried. Maybe it should start working on another lightweight special edition right now.
Record times or not, though, the Type R is a spectacular hot hatchback that we adore; one that's capable of besting newcomers with more driven wheels.