2023 Honda Civic Type R Unveiled With A More Mature Look, Powerful Engine And Sharp Handling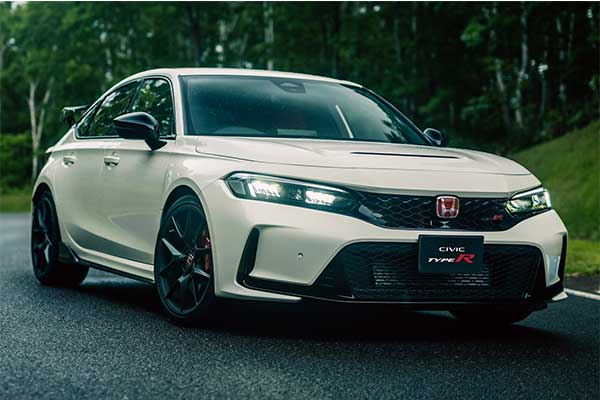 After almost a year it was teased, the 2023 Honda Civic Type R has now been unveiled and honestly, the camouflage didn't do this latest hot hatch any justice as you can see from the photos that it's very impressive and arguably the most important enthusiasts' machine of the year.
It's hard to forget the previous Civic Type R. It was the epitome of Japanese automotive aggression. Its punchy engine, intimidating exterior, and unforgettable big spoiler still evoke nightmares for its contenders. But there's something different about the 2023 Civic Type R. It ditched all of its boyish looks. Instead, it now comes with a menacingly mature outfit fit for red-carpet treatment.
There had been some wild speculation during the new model's early development that it might switch to all-wheel drive, along with some slightly more believable predictions that the 2023 machine would adopt a hybrid setup, or offer a dual-clutch transmission. But the car as delivered is simpler, more familiar, and probably all the better for it from a driver's perspective.
Honda says the new Civic Type R will be the most powerful to date. A 2.0-litre turbo-4 will spin the front wheels, but exactly how much power it will make hasn't been disclosed yet. The outgoing Type R had 306 hp. The suspension and steering get enhancements as well, according to Honda, but exactly what they are also hasn't been disclosed. A 6-speed manual transmission with downshift rev matching will be standard. Again, Honda said the transmission is upgraded but didn't share how.
Honda hasn't yet detailed the chassis upgrades that turn the regular 11th-gen Civic into a Type R, or how this 2023 car improves on its predecessor, but it does describe the body as "lightweight and highly rigid", claiming that the driving feel is increased by "enhanced suspension and steering performance."
Inside, there's red mixed with black. You'll find red on the aggressive sport seats, carpeting, badging, and contrast stitching. Black covers the rest, including the Civic's handsome dash which carries over from the standard model. A special +R driving mode adds some visual excitement to the driver display, and an onboard data logger offers real-time information on the car and how it's responding to the driver.
Exact prices and details of any available options and packs will be dished out closer to the fall-2022 on-sale date.