2023 Ford F-150 Raptor R Debuts With A Monstrous 700Hp Supercharged V8 Engine
When Ford introduced the F-150 Raptor last year, many diehard Raptor fans were somewhat disappointed with the non-availability of the V8, but that has changed as Ford introduced an even better Raptor called Raptor R with a powerful V8 engine that doesn't require a third-party tuning shop.
Ford borrowed the 5.2-litre, supercharged V8 from the Mustang Shelby GT500. It has, however, been modified for this particular application.
Calling it the heart of the Raptor R, Ford says that the engine makes 700 hp (522 kW/710 PS) and 640 lb-ft (868 Nm) of torque instead of the Mustang Shelby GT500's 760 hp (567 kW/770 PS) and 625 lb-ft (847 Nm). That's also two fewer horses (1.5 kW/2 PS) and 10 fewer lb-ft (13.5 Nm) than the Ram 1500 TRX. Why didn't the Ford team tune the engine to produce at least 703 hp to best the TRX?
"Horsepower isn't everything. It's more about the power-to-weight ratio. 5 more hp won't play a role in capability where we want to win – and that's in the desert," Ford spokesperson Dawn McKenzie said in a statement. The V-8-powered Raptor is estimated to weigh 5,950 lb. The TRX weighs 6,350 lb. McKenzie said Ford's not sharing a 0-60 mph time and the truck doesn't have launch control as the TRX.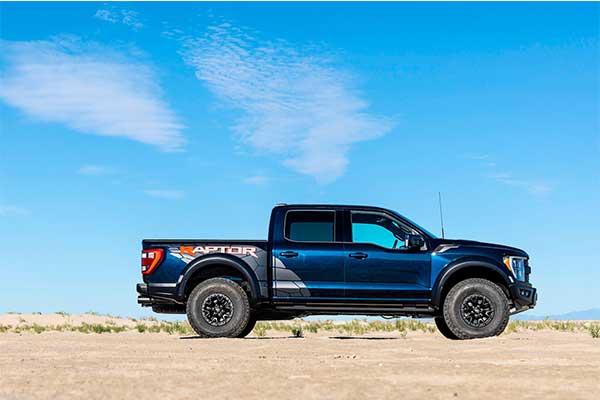 Ford claims it has retained the off-road durability of the regular Raptor by redesigning the exhaust manifolds with a cast stainless steel design, giving it a unique oil cooler and filter, a deeper oil pan for tackling aggressive grades, and a new air intake with 66% more air volume. Adding to it all, a high-flow conical air filter sounds mega.
Moving beyond the engine, the Raptor R enjoys plenty of other changes under its skin. The 10-speed automatic from the F-150 is retained for duty here, not the 7-speed dual-clutch auto from the Mustang. However, the 10-speed auto is modified to add performance. Ford says that it's added a heavy-duty turbine damper and four-pinion rear output assembly to the specially-tuned torque converter. This is meant to provide a smoother powertrain feel both on- and off-road. The transmission's calibration is changed, too, and Ford promises super-quick shifts up and down the gearbox.
Inside, Recaro seats clad in leather and Alcantara are finished in black and feature Raptor R embroidery, while genuine carbon fibre is found on the doors, dash, and centre console. Code Orange stitching offsets the black. Feature-wise, the Raptor R boasts the 12-inch SYNC 4 infotainment touchscreen with wireless Android Auto and Apple CarPlay and over-the-air software updates. The Raptor R's complete suite of safety assists is tailored for off-road use with Trail Turn Assist, Ford Trail Control, and Trail 1-Pedal Drive to aid in all means of off-road excursions.