Ford Mustang Super Cobra Jet Is A 1,800 Hp Prototype Seeking To Break The EV Quarter-Mile Record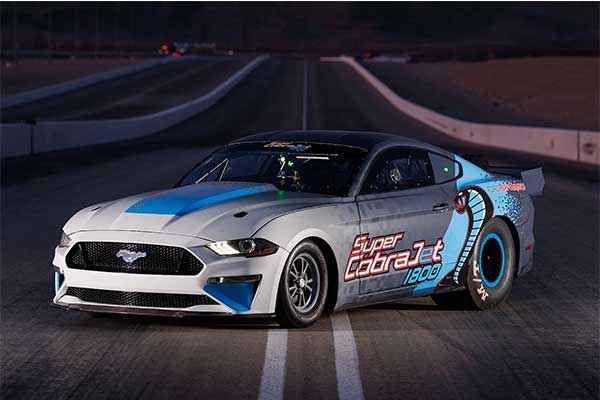 Ford Performance has officially introduced the Mustang Super Cobra Jet 1800, an updated version of its electric-powered drag race car, to break the world record for full-bodied electric vehicles in the quarter-mile.
Although the Mustang is an EV, it's a classic-shaped pony car, and not based on the electric Mustang Mach-E. It's also a proper steel car with a full unibody shell, not some carbon-fiber lookalike draped over a lightweight spaceframe chassis, but it's a one-off and definitely not for road use. The other thing to know is that while the 1800 has two individual motors, it runs its power to the rear wheels only.
As the name suggests, the new Mustang is an iteration of the Mustang Super Cobra Jet 1400, which made its debut a few years back. Ford has developed the 1800 prototype in collaboration with MLe Racecars, AEM-EV, Cascadia Motion, and Watson Engineering.
The 1800 have seen major upgrades in a number of departments. The motor configuration is basically the same, with four PN-250-DZR inverters combined with two "double-stacked" DS-250-115 motor pairings providing the grunt. However, a lightened battery pack means that power will go a lot further.
"We're always looking to push ourselves in every corner of the motorsport world," said Mark Rushbrook, global director, of Ford Performance Motorsports. "Drag racing remains a key proving ground for our products and technology, and we're excited to not only try to best our own record in the quarter-mile, but to further showcase ongoing development we continue to make across the entire electric vehicle landscape."
The Super Cobra Jet 1800 will also chase records for the fastest electric vehicle and fastest two-wheel drive electric vehicle to perform 0-60 mph during an NHRA (National Hot Rod Association) event later this season.