Check Out This Lego Peugeot 9×8 Le Mans Race Car With A Glow In The Dark Ability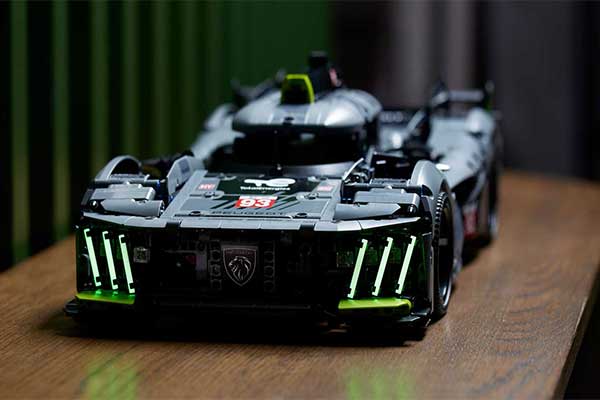 Lego Technic on Friday revealed its newest set: a 1:10 scale version of Peugeot's 9X8 Hybrid Hypercar set to compete at the 24 Hours of Le Mans in June.
Constructed with 1,775 pieces, this intricate build brings to life all of the 9X8's key details. Its hybrid system is noted with the inclusion of its V6 piston engine while realistic suspension replicates the car's design. Special glow-in-the-dark light elements are included at the grille to light up the look at night. The build itself measures over 19 inches long and 9 inches wide as it has been carefully crafted for both display and play.
It's not just the design Lego got right. The building block company also managed to fit a scale version of the V-6 engine sending power to the rear wheels, along with a replica of the electric motor sending power to the front wheels (though there's no actual battery power, unfortunately).
"Our technical cooperation with the Lego Group started in January 2022, five months before the Peugeot 9X8 reveal. It took one year to fully develop the project with the technical and design teams, allowing us to directly transpose the technical details of the 9X8 to the Lego Technic model. It was very important for both brands to create a model that is as realistic as possible," Olivier Jansonnie, Peugeot Sport's technical director, shines more light on the development process.
The Lego 9X8 will be available from Lego stores and online from 1 May, retailing at £169.99. Just enough time to get one home and fully built before lights out at Le Mans the following month.