Peugeot Refreshes The 508 For 2024 With A New Face And Engine Upgrades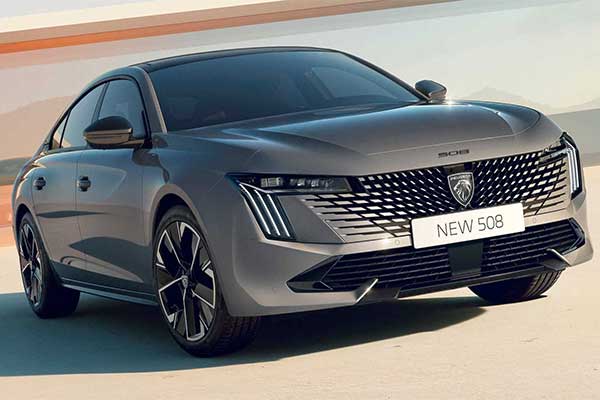 Peugeot has just unveiled an upgraded version of its flagship vehicle, the 508 in both sedan and station wagon models with a new face and new engines which shall be explored now.
The revised D-segment compacts that will hit showrooms in June are easily distinguished from the models launched in 2018 by their narrower LED Matrix headlights (standard across the range) and three DRL claw marks below each light unit instead of the single fang seen on the current cars. The lower grille has champed shape and now turns down rather than up at the ends, giving the car less of a smiley face, but the biggest change is reserved for the grille, which flows into the bumper below it and features Peugeot's latest badge.
Moving at the back, the full-LED taillights boast a fresh take on the same three-claw motif. Customers will be able to pick from three new colors (Okenite White, Titanium Grey, Eclipse Blue), three trim levels (Allure, GT, Peugeot Sport Engineered), and several alloy wheel designs in sizes from 17 to 20 inches. For the range-topping PSE, the French brand installs Michelin Pilot Sport 4S tires.
Inside, the 508 receives much of the technology seen elsewhere in the Peugeot line-up, with a redesigned dashboard and center console. It gains a 10-in central infotainment display partnered with Peugeot's 12-in i-Cockpit system and a compact steering wheel. As well as voice recognition, sat-nav, a motorized boot, two USB sockets, and wireless Apple CarPlay and Android Auto, the 508 benefits from a night vision camera that can detect cyclists, animals, and pedestrians.
Power starts with an i3 1.2-liter turbocharged gasoline unit with 130 horsepower. For Africa, the Middle East, and Asia, Peugeot also equips the 508 with a bigger i4, 1.6-liter producing 218 hp. Alternatively, customers can go for the i4, 1.5-liter turbodiesel with 130 hp.
A pair of plug-in hybrid powertrains are offered in two-wheel-drive guise by combining a 150-hp or 180-hp gasoline engine with an 81-kilowatt electric motor for a combined output of 180-hp and 225-hp, respectively. Step up to the 508 PSE and you get a 200-hp gasoline engine an 81-kW motor linked to the automatic transmission and an 83-kW motor at the rear. Combined, these produce 360 hp delivered to both axles.
Read More:

Peugeot Inception Concept Unveiled, Gives A Glimpse On What To Expect In The Future