Hyundai And Rolls Royce Team Up On Air Mobility Projects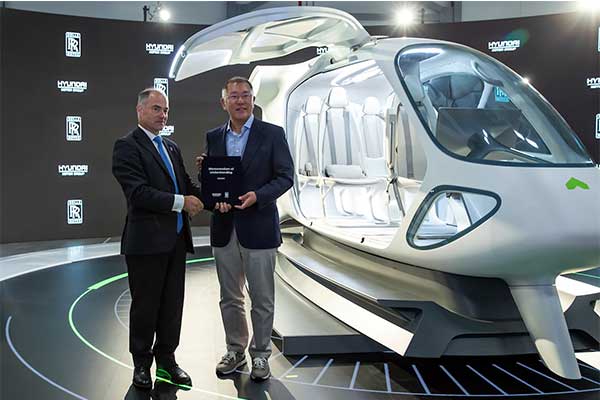 Hyundai Motor Group said Tuesday it has signed an initial pact with Rolls-Royce to jointly develop an advanced air mobility (AAM) at Britain's international air show. The first aircraft with jointly developed electric fuel cell technology will be demonstrated by 2025.
According to Jaiwon Shin, President of Hyundai Motor Group, the partnership with Rolls-Royce will draw upon their aviation and certification expertise to accelerate the development of hydrogen fuel-cell propulsion systems.
"Hyundai has successfully delivered hydrogen fuel cell systems to the global automotive market and is now exploring the feasibility of electric and hydrogen propulsion technologies for aerospace integration. We believe this to be the key technology to support the global aviation industry's goal to fly net zero carbon by 2050," he added.
"We are delighted to partner with Hyundai Motor Group which provides a valuable opportunity to leverage and build on the capabilities each company brings from the aerospace and automotive sectors," Rob Watson from Rolls-Royce comments. "The Advanced Air Mobility Market offers great commercial potential, and this collaboration supports our joint ambitions to lead the way in the Advanced Air Mobility Market."
On Monday, Hyundai Motor Co. showcased its urban air mobility (UAM) technologies at the Farnborough Airshow through its wholly owned U.S. UAM unit, Supernal.
Supernal unveiled a peep into the future electrical vertical take-off and landing (eVTOL) aircraft concept, its design and technologies at the air show, which runs through Friday.
Supernal aims to commercialize the eVOTL aircraft in 2028, while collaborating with more than 50 companies, including affiliates of Hyundai Motor Group, to help ease related regulations and establish the infrastructure for UAMs.