Hyundai Debuts The Creta Based Alcazar 7-Seater SUV (Photos)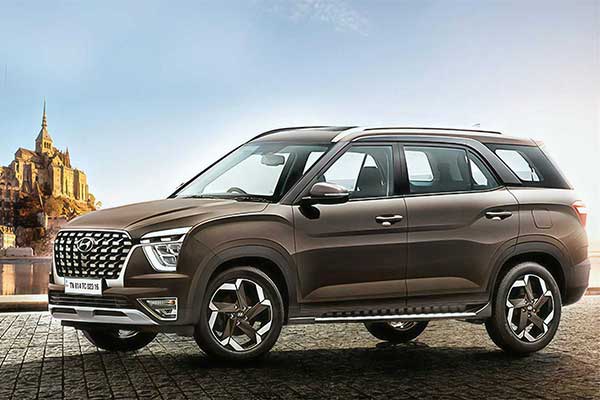 After just launching the futuristic Staria minivan, Hyundai is not resting as they have again released another Vehicle called the Alcazar. The Alcazar increases the number of SUVs by Hyundai to 7  which is a huge lineup. The Alcazar is based on the Creta crossover and is billed as a premium SUV. Hyundai says that the Alcazar combines space and performance with safety and technology.
The Alcazar measures 108.6 inches between the axles or 5.9 inches more than the Creta. It also features a slightly elongated rear overhang to make the rearmost seats comfortable to use. While the doors, hood, and front fenders have been carried over from its smaller brother, Hyundai made the effort to change the grille by giving it a glitzy pattern. The rear quarter glass is also new and the chunkier taillights reflect the Alcazar's larger footprint. Thanks to the increased dimensions, the Alcazar offers six- and seven-passenger seating configurations. Hyundai also noted the second-row seats slide, while models equipped with second-row captain's chairs offer a first-in-segment rear centre console.
Although the information on the Alcazar's interior is unknown, it is expected to be similar to the Creta. The base trim level features a 10.25-inch touchscreen display, a panoramic roof, a wireless charger, an HVAC, a digital dashboard, and 360-degree view cameras.
Powering the family-friendly crossover is a 2.0-litre gasoline engine capable of 155 hp and 142 lb-ft of torque. There's also a 1.5-litre turbo diesel with 111 hp and 183 lb-ft. Both support six-speed manual and automatic transmission types.