Checkout The G-Wagon That Was Manufactured With Ice (VIDEO)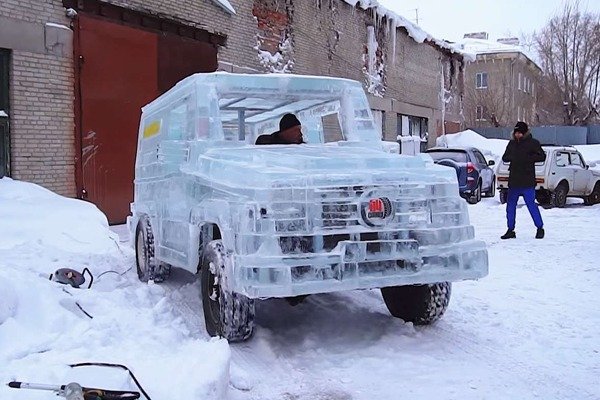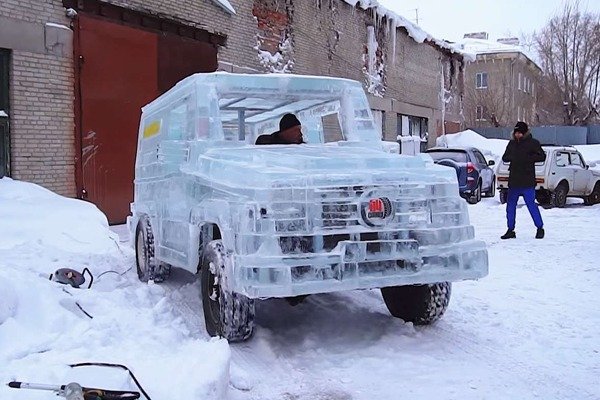 A Russian, Vladislac Barashenko manufactured a Mercedes G-Wagon with ice.  The man owns a garage named Garage 54 in Novosibirsk. It was in the garage that he used frozen Siberian water to create the SUV.
There in Siberia, temperatures reach a high of -10 degrees Celsius in January, a perfect time to build a car made out of ice!
The iced Mercedes G Wagon is fully driveable. And weighs over 6 tonnes!
The vehicle is not entirely iced though. Some parts like the engine required more melt-proof materials to prevent the whole car from falling apart.
Barashenko took a chassis from an old Soviet Jeep, using the steel frame as a base for the car, before adding the 6 tonnes of sculpted ice blocks as the bodywork. The seats and steering wheel are both normal parts too.  This is a testament that one can achieve much when one sets one's mind to a project.
Watch the video of the ice G-Wagon being driven below.
Video Credit: @supercarblondie/Instagram
Mercedes-Benz G-Wagon
The Mercedes-Benz G-Class, sometimes called G-Wagon, is a mid-size four-wheel drive luxury SUV. Magna Steyr (formerly Steyr-Daimler-Puch) in Austria manufactures the G-Wagon. While Mercedes Ben markets it.
The G-Wagen is characterised by its boxy styling and body-on-frame construction. It uses three fully locking differentials, one of the few vehicles to have such a feature.
The Mercedes-Benz G-Wagon was first dreamed up in the early 1970s. The intention was to create a rugged, capable, user-friendly, and readily transportable all-wheel-drive vehicle that would be comfortable. Somehow, through a combination of savvy marketing, outrageous pricing, limited production, and butch, rectilinear good looks, the G-Wagon became a status symbol—the vehicle of choice for urbane celebrities, socialite moms, and weekend surfers.