Jonathan & Buhari: See What They Did At Itakpe-Warri-Railway Line (Watch VIDEO)
Itakpe-Warri-Railway line is a 276-kilometres railway-line. It links Warri in Delta State to Ajaokuta, in Kogi State.
The contract for its construction was first awarded in 1987 during the administration of General Ibrahim Babangida.
Rotimi Amaechi, the minister of transportation, recently announced that the Itakpe-Warri rail line has been completed. This is coming after intervention by two different governments: Goodluck Jonathan and Mohammadu Buhari. Watch the video below.
The rail line was originally conceived as a cargo rail. It was meant for the transportation of Iron Ore to Ajaokuta (Kogi) and Aladja Steel Rolling mills (Delta State).  It was also designed to transport processed steel to the seaport in Warri, Delta State. However, it was subsequently redesigned to become a commercial passenger railway line.
The construction railway line was initially planned to be delivered in five years. However, it was abandoned for over 30 years due to paucity of funds.
The project was abandoned after about 254 kilometres had been constructed.
The Itakpe-Warri-Railway-Line would have been the first standard gauge railway line in Africa if it had it not been abandoned.
In 2009, the Goodluck Jonathan-led government revived the construction of the Itakpe-Warri railway line. The Government approved N33bn for the redesign and completion of the remaining 22 kilometres.
After the change of Federal Government in 2015, the project was abandoned. Reportedly, it was abandoned due to lack of funds after it has reached  70% completion.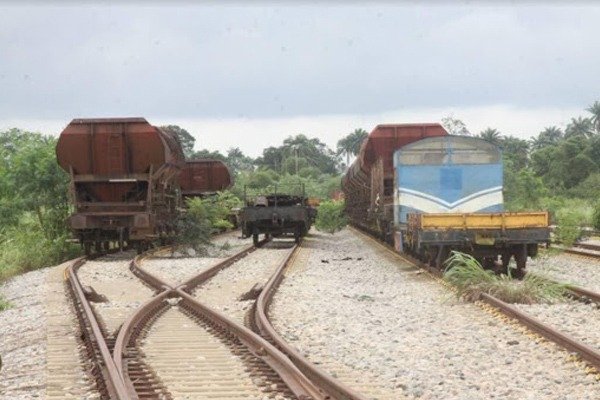 In 2017, the new administration of Mohammadu Buhari announced that his government will fund the revival of the Itakpe-Warri rail line at a cost estimate $200 million (N72 billion). The plan was to get the Itakpe-Ajaokuta-Warri rail line ready for commercial operations by 2019.
The Buhari administration proposed 12 new stations for the rail line between Itakpe and Warri. They include Itakpe; Eganiy; Adobe; Itogbo; Agenebode; Uromi; Egehen; Igbanke; Agbor; Abraka; Okpara and Ujewu stations.
Rotimi Amaechi, minister of transportation, on January 2020, announced the completion of the Itakpe-Warri rail line.
According to him, President Mohammadu Buhari would inaugurate the completed rail project later in 2020.