The Introduction Of The Changan Brand From Stallion Motors (Photos)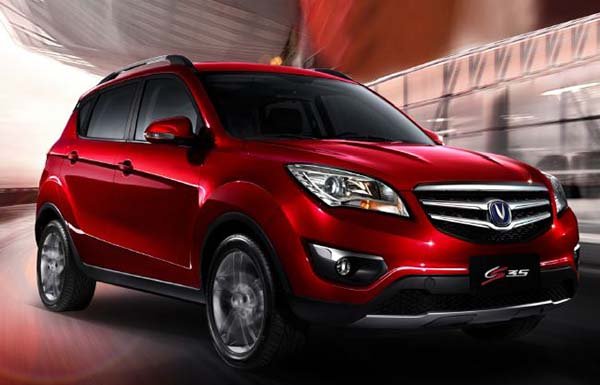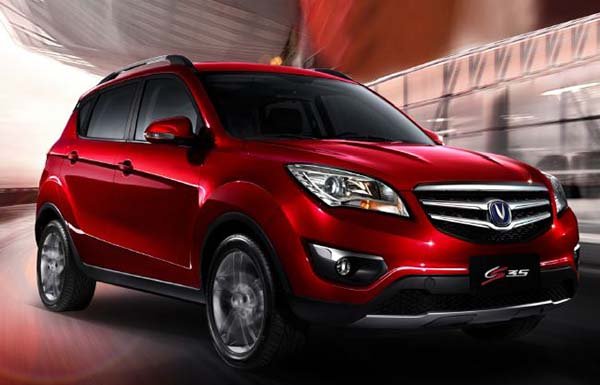 Stallion Motors introduces the CHANGAN BRAND. CHANGAN  as a brand has history of 154 years founded in Shanghai in 1862. It has 32 years' experience in car-making and for last 2 consecutive years it has maintained number 1 position in China sales volume for passenger car segment while its research and development department ranks number 1 in Chinese automobile industry for last 8 years.
Stallion Group is proud to introduce Changan Brand in Nigeria & it has commissioned an ultra-modern vehicle assembly plant located in VON Badagry express, Lagos. We have started the production of passenger vehicles mainly the SUVS –CS35 since 2016, this plant is equipped with the latest machinery and tools to be able to assemble a range of Changan vehicles with the highest quality standards.
On these premise, Stallion Motors offers you the Changan CS35 @ the introductory price of N7,995,000/- to be readily available for delivery from 25th August, 2017 (attached E- Flyer) for your perusal.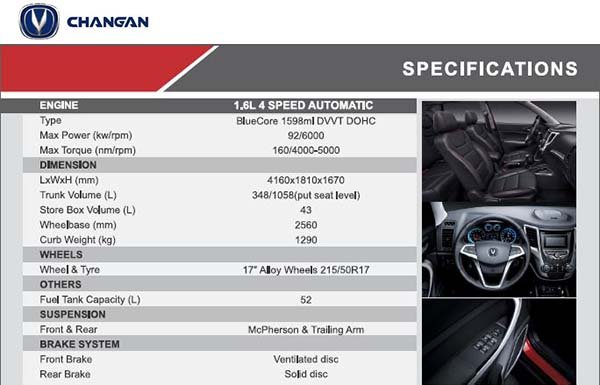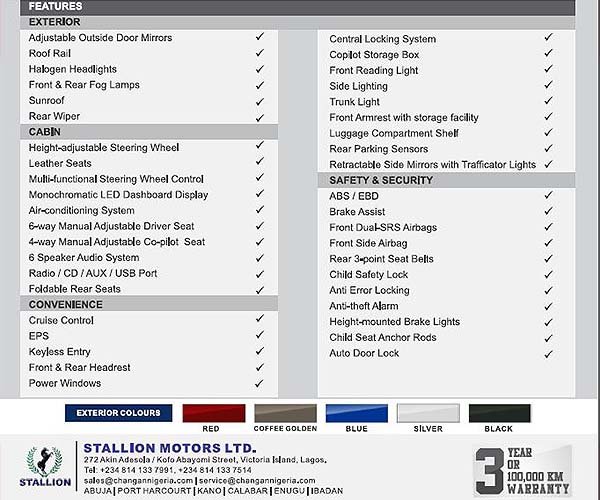 See Related Post: Land Border Ban: Made-in-Nigeria Hyundai Grand Xcent Revealed By Stallion
After Sales Services: We maintain adequate stocks of spares to meet all your After Sales Service requirements & we provide you with excellent after sales service support through our ultra-modern, the state of art, after sales service facilities Nationwide.
Lagos:
A –  Orile Plot no. 1B/2B block D, Amuwo Odofin Industrial Scheme, Akinwade Road, Alaba, Orile, Lagos
B –  Apapa No. 11 Burma Road Apapa. Lagos.
Abuja: Plot-581, Airport Road, Central Business District, Abuja FCT
Port-Harcourt: PHC to 117, Transamadi Industrial lay Out, Rivoc Junction. Portharcourt.
Calabar: Plot 07, Block J, Murtala Mohammed Highway, Calabar. Cross River State.
Kano: No.10 Club Road, Kano.
Enugu: Plot No.6, Opp. Arab Contractor, Enugu-Port Harcourt Expressway, Enugu.
Owerri: No.8 Assumpta Avenue, Fuason Industrial Compound, Owerri, Imo State.
Ibadan: Plot-152, Opp. Capital Building PHCN Zonal Headquarter, Ring Road, Ibadan, Oyo State.
Warranty: We wish to convey to you that we are the 'SOLE AND EXCLUSIVE DISTRIBUTORS OF CHANGAN CARS IN NIGERIA'; and have the Technical Collaboration and support of "Changan International Corporation, China" to provide you a 3 years or 100,000 K.M (whichever is earlier) manufacturer's warranty on all Changan cars.
Value Added Services:
 AMC (Annual Maintenance Contract): Our AMC is a unique feature which allows you to plan your service and maintenance cost. It is available based on your requirement of mileage and time. This offer covers only periodic Service and it is obtainable at the time of Changan Car purchase and after Changan Car purchase.
Please be informed that we are open to Test Drive/Demo of any Honda Model of interest at your indicated convenience.
Kindly contact the company via any of the mediums in the signature below for further enquiries.
OLAWOYIN MOHAMMED
Business Development Manager
 Stallion Group (Automobiles)
M: +234-8141337502, 08026898726
E: [email protected], [email protected]
Stallion Group has the Exclusive Manufacturing Franchise / Distributorship (Sales & After Sales) of Major Auto Brands in Nigeria: Hyundai, Honda,Nissan, Volkswagen,Skoda, Audi, Porsche, Ashok Leyland, Changan & Foton /Stallion Force Pick Ups
See Related Post: Land Border Ban: Made-in-Nigeria Hyundai Grand Xcent Revealed By Stallion