Kia Sorento Gets A Makeover For 2024 With A New Interior and Revamped Face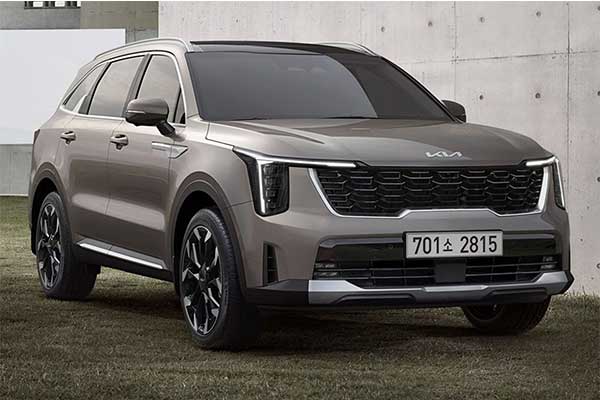 After about three and a half years, the Kia Sorento is getting a thorough makeover. The Sorento has a completely new front, subtly sharpened buttocks, and a completely new interior. 
Hyundai recently helped the Santa Fe to a completely new generation and now it's the turn of its cousin, the Kia Sorento. Where the Santa Fe was actually renewed down to the smallest nipple, the Sorento gets a thorough facelift. That is not surprising, the current fourth-generation Sorento has only been around for about three and a half years.
You can recognize the renewed Kia Sorento immediately at the front. It looks completely different from that of the pre-facelift model. In a sense, the SUV is introduced to the so-called star map lighting, and that brings the look of the Sorento a little closer to the younger and all-electric EV9. A piece of Opposites United design for the Sorento. The horizontally oriented headlights of the original have been replaced by vertical ones that are placed lower in the front. Above it, we find flat elements in which the LED daytime running lights are incorporated. The grille between the headlights has grown a considerable size and the Kia logo – the new one – moves from the grille to the bonnet. That hood is also completely new, something that we don't see very often with a facelift. Lower in the front, Kia places a different bumper, just like at the bottom of the rear.
Speaking of the rear: fewer changes there, but there are certainly a few things. The taillights largely retain their shape, but the vertical sections are now fused together at the top. The layout of the rear lights is new and here too we see Kia's star map light signature, although it has been incorporated in the largely old light units. At the rear, Kia now applies its new logo, although it is in the same place as before. There are also three new paint colors and three new colors for the interior.
As for the interior, we find an almost completely new dashboard. The shape of the outer vents of the ventilation system still links to that of the pre-facelift version, but the rest of the cockpit – minus the center tunnel – is completely overhauled. Behind the steering wheel are now two visually fused displays without a canopy. The two 12.3-inch screens are new, as is the control island with which you control the climate control.