Kojo Motors Launches The First Ever 14-Meter Yutong "Luxury Bus" With Mercedes Powertrain (PHOTOS)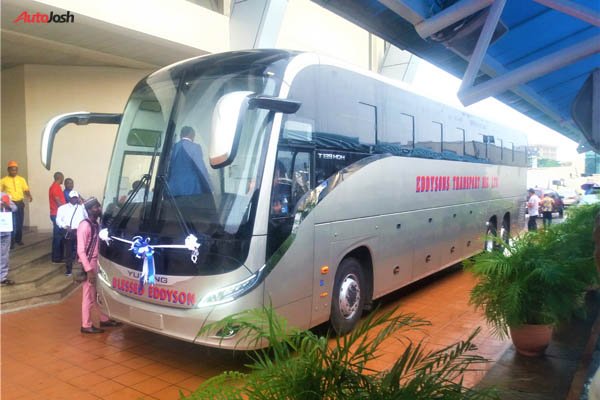 History was made last week Thursday in Lagos, Nigeria.
This happened when Kojo Motors Nigeria Limited in collaboration with leading bus manufacturer, Zhengzhou Yutong Bus Company of China, launched for the first time in any part of the world the first ever 14-meter Yutong coach.
The coach – Yutong T139HDH – was officially unveiled at a grand world launch ceremony at the prestigious Civic Center, Victoria Island, Lagos.
The resplendent Yutong T139HDH bus – with a capacity for up to 63 passengers – features the Mercedes Benz (OM 457LA) engine, Mercedes Benz AMT Gearbox, Germany Sachs Clutch, Germany ZF Automatic Steering Axle, Air Bag Suspension System, etc.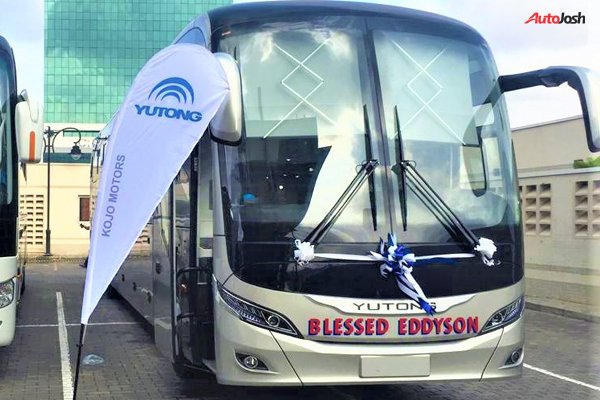 According to Chinedu Oguegbu, Executive Director of Kojo Motors Limited, the bus features in-built DVR cameras for monitoring, onboard WiFi to ensure passengers remain connected and video-on-demand to also keep passengers entertained.
Some other features of the Yutong T139HDH include:
Liquid crystal dashboard.
3 times brighter automatic headlights that come on immediately it gets dark.
Electrical controlled passenger curtain.
USB ports for passengers
Electrical controlled driver's window and rear mirror.
Automatic windshield wiper.
7 colorful interior ambient lights as seen in the pictures below.
AUS which prevents the bus from moving when passengers are getting in and out.
EBD (Electronic Braking Device)
ESP (Electronic Stability Program) and many more.
The launch ceremony had in attendance several dignitaries that included the Chief Executive Officer of Kojo Motors, Chief Ikenna Oguegbu;  the Deputy Corp Commandant of the FRSC, C. Z. Matthew, Managing Director of Primero Transport Service, Fola Tinubu,  representatives from National Automotive Design and Development Council (NADDC) and Mr. Luqman Mamudu of Transtech Industrial Consulting Limited.
Representatives of several bus fleet operating companies across the country were also in attendance.
The event also featured the presentations of awards to some outstanding customers of Kojo Motors that patronize the Yutong bus brand.
The Yutong brand of buses is manufactured by Zhengzhou Yutong Bus Company of China. The company has 80% share of the bus market in China. It also has a Global market share of  15%.
Yutong has been the world's largest bus maker for seven consecutive years. 70,000 units of their buses were sold in 2016 while the German company which is the second largest bus manufacturer in the world sold 20,000 units in the same period.
According to Robben Xiong, Yutong's Head International Business, Africa, the Yutong T139HDH bus was produced to withstand rough driving terrains and were subjected to rough tests.
Also speaking at the event, Ejiro Omoefe of Stanbic IBTC Vehicle Asset Financing department, testified to the durability of the Yutong bus brand. He also revealed that Stanbic IBTC offers vehicle leasing services for the acquisition of Yutong brand of buses.
Yutong buses are assembled in Nigeria by Kojo Motors Limited. They offer 150,000 kilometer or 2 years warranty on each bus.  Obviously, Kojo Motors and Yutong have a lot of confidence in their buses after subjecting them to extensive rough road tests across Nigeria.